Gone are the days, when the blonde and the butter shades or jet black was the only trending hair color. These days people are up for something that can not only add color to their hair. But something that can look stylish, vibrant, and of course, is trending. We have bought something like that only for all you ladies, and that is the rainbow hair color. When we say rainbow, then comes the idea of different glowing shades.
You may feel it kind of weird or wild to try the rainbow shade on your tresses. But we are sure that once you go for it, you will fall in love with your colorful tresses. Below we have listed some of the vivid rainbow hair color styles which are trending these days.
Let's have a look, and you never know what you may end up trying.
Spectral shaded braid
Braids are forever in fashion, and so are the different styles of braids. But how about trying a braid that has some unique colors also from the spectrum.
The idea of turning some of the tresses red from half head and the shades of pink coming down from the braid turning to electric blue and then yellow is a beautiful combination. This colorful French braid is looking awesome.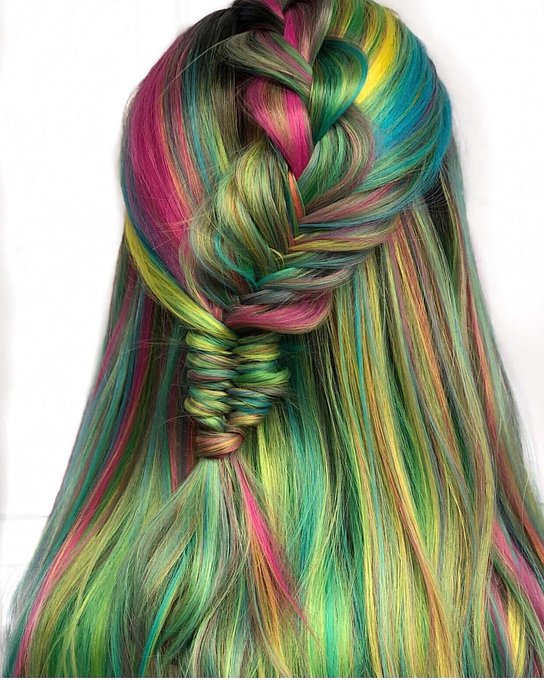 Pixie Leopard Hairstyle
This style does not have many colors, but the three shades are also giving a great feel. What made us add this style to the list is the way the three shades that are butter blonde, coffee brown, and black are being used. This leopard print hairstyle will surely make your pixie haircut look more beautiful.
Sleek Cassata Hair Shade
These light shades of pink, yellow, blue, green, and orange are looking lovely. Be it the sleek hairstyle or the bob cut, we feel these shades will make anyone look pretty and full of life. For carnivals or music festivals, this hairstyle is perfectly suitable to go.
Wavy Unicorn Hair
We are in love with this style. No doubt, how beautifully the stylist has done the hair. They are just looking like colorful sea waves running and changing their shades.
From the electric blue to electric yellow, and of course the electric green and electric pink, they all are looking perfect. They are giving a feel like the shades are coming out of the grey. Someone with wavy hair should surely try this hair color style.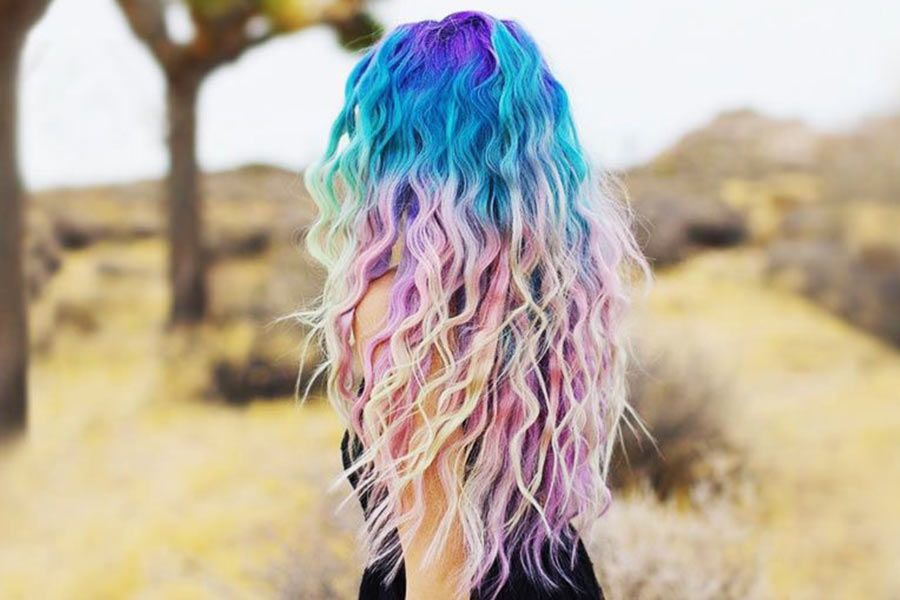 Partial peacock Shade Tresses
This is a unique hair color style, which is not entirely but partially gives a peacock look. The dark shades of purple and blue on the dark brunette shade is making hair look lustrous.
The colored hair tresses are looking very natural as they are emerging from the shade of brown. The untied tousled waves are looking no less than the feathers of a peacock.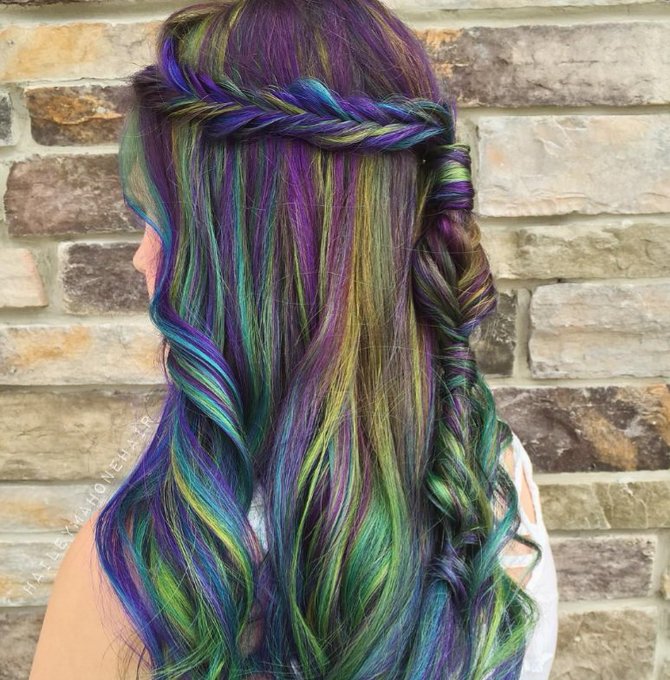 Knot the vibrant shade of tresses
If I had to go to a carnival or a festival of colors or any such occasion full of fun, I would go for this style. It's so much full of colors and gives the look of so many rainbows in one place.
From the light to electric shades of color, this style will look lively on anyone. Be it the yellow, red, pink, blue, green, orange, or purple; the different shades are adding life to the tresses.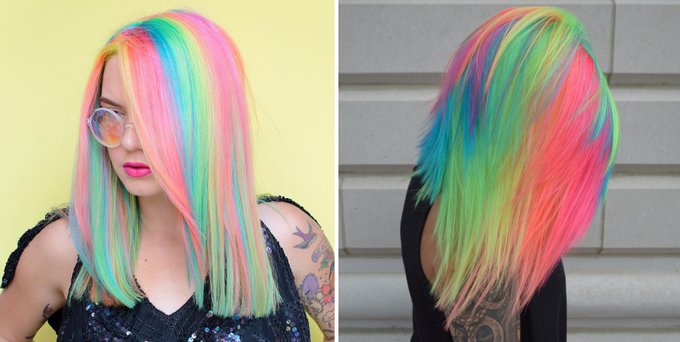 Metallic colored tresses
Metallic color shades are kind of bold. And when added with the jet black or the brunette shade, they look a great combo. Here the metallic shade of green, blue and black are added to the hair. These tousled and wavy hair tresses with more of a metallic green shade with the brown highlights are giving a stunning look.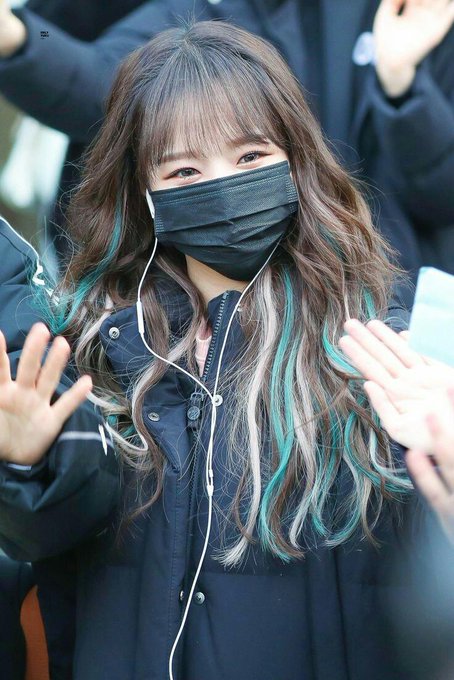 Hidden Rainbow Hair
Ditch the black with the hidden rainbow color tresses. If you only want to flaunt your rainbow color tresses on some special occasions, then you can try this style. Your rainbow color tresses will be hidden beneath the jet-black hair.
And you can go for the updo style when you really want to show up the color shades. The shades chosen here by the stylist are perfect from purple to red to orange to yellow to green and the blue, a beautiful rainbow style.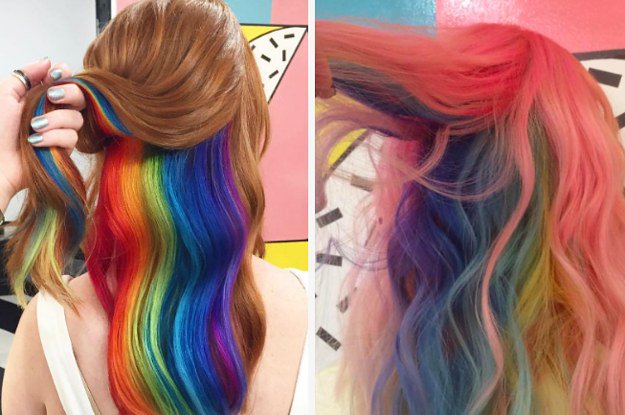 Blunt lob cut with lightning color shades
If you want to keep the color game low, then here is the style for you. These are not so vibrant but are definitely stylish. The lighting color shades are just looking like the reflection of light on a prism or in sunlight.
For this type of style, choosing the lob blunt cut is the right option. But it all depends on your stylist how perfectly he or she will do it.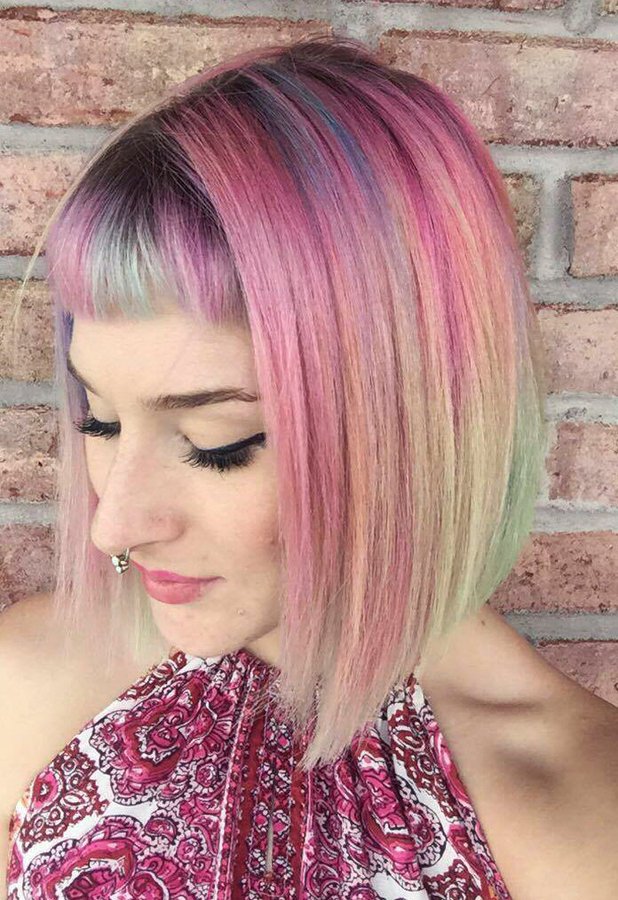 Metallic Braided Style
This updo round braid style is unique with metallic colors. With the more metallic purple and metallic blue shade along with the pink highlights, this style is looking great. Metallic shades are not the kind that will look dull.
They will make you look different from the crowd, even if there are many ladies out there with rainbow shades. Pair up this metallic shade braid with a nightgown or a dress, and it will look elegant.
Get ready for the dark with these neon shades
Do you want your hair to glow in the dark and look more vibrant? If yes, then check out this hair color style. From different shades of neon, be it green, orange, pink, yellow, or other shades, it will be you glowing at the party. And trying it on a braid is a plus to your style as well as look. So, without worrying, just go for it.
Keep it low with highlights
We know that many of you just don't like the idea of coloring all your tresses in different shades. So, for all those ladies and girls out there, we have brought this style. You don't have to color all your tresses, as you can just level up by highlighting your tresses.
Keep the base color black, and highlight your hair tresses with the shades of blue, pink, green, purple, orange, yellow, and red. You can try this on long hair also and on the short one as well.
Colorful Pastel braided style
Another braid style to fall in love with. If you want to keep the braid game up, then go for this unicorn color shade style. Starting from the shade of blue at the top and trying the different shades at the bottom is amazing. This braid is looking more stunning because of the colors. You will rock your whole girl gang with this style.
Fantasy blue on straight hair
You might think that blue is an odd color for a hairstyle, but let us tell you that this color is here and is here to stay. However, not everyone can pull this look off. It can only be perfectly carried by women with pale skin. All you need is a perfect stylist who knows how to handle this cool and amazing color.
Amazing Amethyst
Fashion takes a lot of guts, boldness, and preparedness to try out different styles and keep on evolving. The new thing in town that has caught everyone's attention is the love for amethyst hair color. It is important to note that darker complexion women can pull off this look effortlessly and it looks gorgeous on all lengths of hair.
Two-toned beauty
Ladies, why settle for one when you can have two? Get the best of both worlds, the prettiness of pink and the boldness of purple with two-toned hair color. You can choose the colors you want, but make sure that it flatters your skin tone.
colors of fire
Guess what has made a fiery comeback? The Face framing shades of red-colored streaks are back and how! You can check out all. celebrities now going for this look, for it looks fierce and elegant at the same time. Red is the color for all skin tones and face-framing layers are the best option for all face shapes.
Half and half straight hair
Find your true self through fashion and styles and keep on experimenting with your looks – this has been the idea of the current generation. This age of experimentation has also given rise to new hair color trends with women going half natural hair color and half rainbow-colored hair.
Do let us know which of these rainbow color styles you liked the most. And which of these you would want to try. We will soon come up with more trending rainbow color ideas for all types of hair.