Kids nowadays are so specific about their dressing sense, hairstyling needs, etc. Just like adults style their hair differently on a daily basis, kids want that too. Give your kid a stylish makeover from now with our list of kids' braided hairstyle ideas.
Your little princess will surely love the way you'll be styling her hair from now on. These pain-free and stylish hairdos will make your kid look no less than a model. Whether you're taking your kid to school or a birthday party, these hairdos can be a lifesaver for you. We have got 16 perfect hairdos for your girl.
Bored of the simple kid's hairstyles? Try these unique kids braided hairstyles
Impress your kids with your hairstyling skills with the help of our ideas. Okay, now let's take you to the list.
three-Part french braid
If your little girl has long and voluminous hair, you should try this three-part french braid on her hair. She'll look very gorgeous in this hairdo. Make a high ponytail by merging all the three sections of her hair. A cute little bow on the top of the ponytail will be amazing.
side braid
Flaunt baby girl's straight hair in a side braid hairdo. It's a very beautiful hairstyle if you and your kid are going for a fun day out. Keep the outfit to light colors like white as it's a simple hairdo. Don't forget to click her pictures in this hairdo.
swirl braid
To make this kid's braided hairstyle, make a triangular partition on one side of her hair. Start making a dutch braid from the top of the triangular portion. Keep braiding till you reach the back of her. End the braid with a low ponytail and printed bow. It's the best look for school.
twist braids bun
This only looks complicated but it's very quick to make. Divide your girl's hair into four sections (top, bottom, and two from the middle). Make a bun from one of the middle sections. Make a ponytail from the top section and twist it to merge with the bun.
low bun with two french braids
Two french braids forming a low bun is a very beautiful way to make a kids' hairstyle. A cute and simple hairdo to make for your kid's school day. The girl's hair should be long enough to make the hairstyle. Make sure the braids are neither too tight nor too loose.
beaded ponytail
Kids like to swing their ponytails whenever they run so add some sound to that swing. What we mean is to add several beads at the ends of each braid in the ponytail. It looks beautiful to the eyes and soothing to the ears. This way you can also know where your kid is by the sound.
colored braids
Add some colors to your kid's braided hairstyle by using multicolored extensions. Schools might not allow colored hair so use them for special occasions like birthday parties or playdates. Make twisted braids to match the braided extensions. Your kid is going to receive a lot of compliments for this style.
cornrow braids
Little girls look so adorable in cornrow braids. The best part about this hairdo is that it can be made on any type of hair and length. Make two inverted cornrow braids on one side and use beads at their ends. It's the perfect hairdo if your girl has curly or afro hair.
braided ponytail
If your girl is around 10 to 12 years old, make a braided ponytail hairstyle for her long hair. Use some bright-colored threads in between the braids for a creative look. Silver-designed beads will also give a beautiful hairdo. A braided ponytail is a chic style for extravagant events.
feed-in braids with two side drops
Side braid drops look so elegant on little girls. The feed-in bun braids will match with the two side drops. Use beads on the ends and in between braids. Though it's time-consuming, the end result will look so beautiful on your kid. Use little braids in between to define the wide braids.
lace braid ponytail
Some girls love styling their long hair. This is a very creative and beautiful hairdo that'll be the perfect look for day-to-day life. Make a long braid and twist it around her long ponytail. Use a rubber band to tie the braid at the end.
three dutch braids
A kid's braid hairstyle is the perfect way to style your child's frizzy hair. Divide her hair into three sections and make dutch braids. Leave making the braids when it reaches the back of her head. Pin them up and leave the ends open. Make this hairdo in winters as loose hair can be troubling in summers.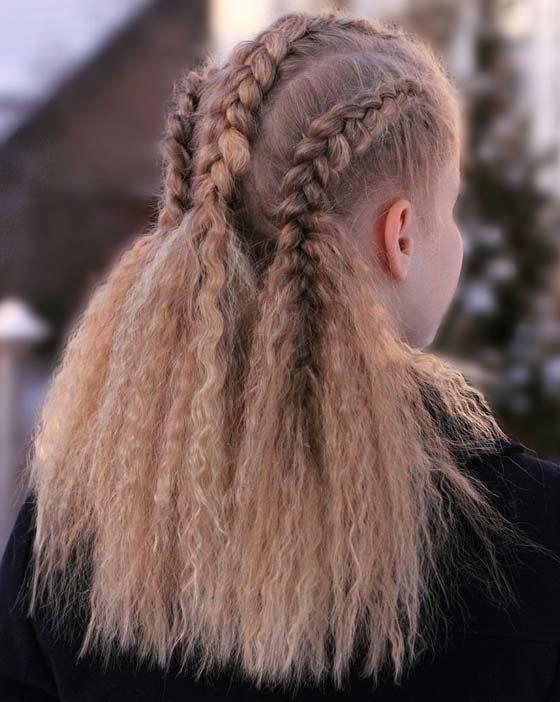 heart braid with beads
Heart-shaped braids look very cute on girls between 2 to 6 years old. Make a heart-shaped braid on the back and a side ponytail. Use blue, baby pink, and pink beads to create a beautiful fusion. Use a big pink bow to attach it to the ponytail.
pigtails with beads
As we're talking about kids' braids hairstyle here so the pigtails will be braided too. Make cornrow pigtails and use white-colored beads to cover the ends. This hairstyle will suit kids aged between 3-5 years old. Leave two braided tendrils on the front too.
braided bangs
If your kid wants to get bangs so badly but you won't allow a haircut, simply make bangs from braids. Braided bangs with a braided bun will make your kid look so gorgeous. Use beads matching the skin tone of your kid. Your girl will be so happy after seeing her hair like this.
two buns
Buns make little girls look very cute. Plus, it lets them handle their long hair without any discomfort. Use colorful threads while making the braids. Braided tendrils on the front and a heart on the back will make the hair look perfect. Try this hairdo for your kid's school function.
Once you try these kid's braid hairstyles, just see the look on your child's face. She will be so happy with her whole new and creative hairdos. Plus, she'll get to show off her amazing hairstyles to her friends and their moms will take styling tips from you.
Here's a little tip, save these hairdos from ruining in the middle of the day by using a little hairspray. Hairpins can hurt your kid's scalp but a spray won't. Try the above hairstyles in any season throughout the year. Also, make sure you're getting your child's pictures clicked in these hairdos. Show them when they grow older to let them know they looked so adorable that day.