It is the time to go for some trendy and ultra-modern men's hairstyles before ending this year. Just leave the same boring old hairstyle and go for a new look to look progressive and trendy. It is always good to opt for nice changes and try a different look. You can always look fresh and become noticed with your trendy style statement.
Here, I am going to share some cool hairstyles for all occasions. Have a look and decide which style is perfect for your personality. Then, let's check out these totally cool men's hair cut.
Cool middle Pompadour Fadeout Hairstyle
The fierce look with bold shades is what this hairstyle has brought—a great style with fades. The style fading out in bald makes the top hair look prominent, eye-catchy, and dashing. The smooth textured golden and brown combination of hair is actually complimented by bald fade.
This is a superb hairstyle for men to look attractive with a macho look. It can actually be styled in many ways, like with a side partition, or you can simply comb the hair back to highlight the top hair.
longer top hair
The straight, smooth, and silky hair kept longer in the middle and faded out with comparatively much shorter hair. It is a complete blend of different lengths of hair. The top hair is slicked straight backward to create a manly and sophisticated look.
The color of the hair is a brunette that is evergreen, and ever stylish. This look is appropriate for formal wear and looks amazingly hot at parties and formal get-togethers.
spiked hairstyle with side partition
A cool and casual look makes the guy look like a heartthrob, ready to steal every gal's attention with his carefree and easy hairdo.
The bright blonde touch at the front top hair spiked followed by dark brown shade hair gives the hairstyle a classy and extremely trendy look.
This type of style is best suited for teenagers and college-goers. Guys with sharp cheekbones are best suited for this look. A subtle beard will definitely compliment this look.
Classic pompadour with shallow side
The chestnut-colored hair with middle pompadour styling looks glamorous and an elegant haircut to go for. In this style, the middle pompadour is settled with a side partition with the help of a gel to keep it set for long.
The side hair is cropped into shorter hair to make the pompadour look noted and illustrious. The style is apt for younger generations and can be best paired with formals and semi-formals with a brunette shade beard and mustache.
Super cool undercut
The style is solely and purely for teenagers and younger men. In this style, the middle partitioned hair is spiked up straight at the top, creating a cock look. This kind of hairstyling is so much in trend in the fashion world.
Every guy looking for a casual, funky, and cool hairstyle should go for this one. The side hair is kept much shorter and fades out with bald to make the spikes get complete focus and look superb.
Blonde One-Sided fringes
To create a dashing fringy look, the middle hair is kept longer, or you can say much longer. It gives the guy a bold style statement and a futuristic look. The blonde color is actually a very adventurous idea and shade to go for.
This color, especially on men, takes a great deal to look perfect. But this hairstyle has made this color get adjusted with so much ease. So the cool guys who dare to go for a unique and stylish hairstyle should give this style a preference.
Light chocolaty Highlighted streak pompadour
You must have heard about the chocolate boy look. This one hairstyle can actually give you that dream look that every guy wishes to have.
It gives the touch of both a sweet, elegant look with a tough masculine appearance by creating long pompadour middle hair and extremely short side hair.
The highlighted streaks are a great add-on to this look, giving the top pompadour a great texture with a defined and detailed styling.
Long silky layered fringes with side partition
This is the ultimate hot and sexy style that suits every guy's personality. And most importantly, this kind of hairstyle is found to be very attractive among females.
The jet black silky and smooth textured straight hair makes its way smoothly to the other sides by creating a wavy texture all over the head.
This style looks very effortless and natural. It creates a cap-like appearance and looks so manly. This is suitable for all age groups and all occasions.
Sun-kissed whisky hair
The combination of bronze and sandstone shades of brown makes the hair look unique and artistically hued and styled. It gives the hair a soft and smooth touch with a sense of refreshing color tone that is rarely seen and uncommon.
This exact type of hairstyling is best suited for men with fairer skin. The hair is kept straight and combed up backward with an asymmetric cut.
Side Parted textured Hair
This kind of hairstyling is basically for those with long, smooth, and thick hair. The top hair is kept very long and styled up with gel to stay settled in the exact position.
Then, the longer hair is side partitioned and combed up to the fall over the other side. It gives the hair a dense and voluminous look and makes it look beautiful, funky, and subtle hairstyle.
spiked Hair with light Fade
This is the most favorable look to bring a sharp effect and a trendy ultra-modern style statement. It gives you style, charm, a cool and casual funky look, and a touch of sophistication and elegance.
The longer spikes in the front, followed by comparatively shorter spikes, look creative and unique. The side hair is kept very short to enhance the spikes' look and define the volume the spikes have brought to the hair.
Rusty red twirled hairstyle
The balayage of rust color is bringing a complete change in the hairstyle. Here, the hue used in the hair plays a vital role in creating this handsome and cool hairstyle for men.
The hair is kept shorter, and the front hair is twirled together to create these waves and the texture.
The hair seems to be very soft and elegant in this style. This hairstyle is easy to manage and can be worn with confidence on any occasion.
Funky shaded Asymmetric Cut
The length of the hairstyle is kept uneven; somewhere, the hairstreaks are longer, and somewhere the streaks are kept shorter to define the texture and detailing of the highlights. It brings a completely funky casual look that makes you look cool and confident.
Those stud like guys who like tattooing, accessorizing them, wearing cool casual, funky clothes with pair of studs and earrings; this is the most suitable style for you guys to attain the perfect cool men look. The use of a blonde hue is an ad-on for this look.
Sophisticated gelled up look
The multi-colored balayage is what makes this hairstyle unique, cool, and at the same time, very elegant. To look like a charming prince, this is the perfect look for the guys who wish to grab everyone's attention with their style statement and handsome looks.
The hair is slicked back straight to look subtle, neat, and sophisticated. Then, the gel is used to set the hair perfectly and keep them settled for a long.
tough-looking jet black slicked-back hair
To attain this perfect look, one should have comparatively longer hair. The jet black colored hair with thin density and smooth texture is most preferred to achieve the exact look. The hair is gelled up together and combed with a thick tooth comb to get the perfect texture.
This hairstyle looks neat, classy, and trendy and brings out a tough, macho look. It can be best paired with semi-formals and formals and is apt for all places.
Dark brown Highlights
The easy and comfortable look for all purposes is here. The highlighted light brown at the ends of the hair makes the hairstyle look so appealing and different. It is so attractive and eye-catchy that no one can take their eyes off this super cool hairstyle.
Styling men's hair is not an easy task to do. To attain this exact hairstyle, you need perfect balayage of brown shades, silky and straight hair, and a perfectly done asymmetric cut to create a middle pompadour and cropped up side hair.
Shiny copper-hued pompadour
To attain this kind of look, you need properly done copper-hued hair with keeping the top hair longer to slick them straight to the back and side hair shorter with a cropped up look.
The hair is settled in a way to make a puff on the top. The color of the beard, mustache, and eyebrows is also kept copper-hued to compliment the hairstyle. This is the perfect look for younger men to rock all parties; they go in and flatter all the girls with their style.
Blonde hair with fringes
The adventurous style with a cool and funky look. The carefree guys who like to go out and travel should go for this hairstyle. It brings a funky and casual vibe yet looks graceful, neat, and comfortable to carry.
The hair is kept longer with fringes, and the style needs a side hair partition to make the hair flow on the other side. The color makes the hair look radiant and shiny with a golden touch.
Wavy Pompadour
Try this simple, sophisticated yet classy, and sassy pompadour for a casual meeting to a formal meeting. It's easy to maintain and suits those with wavy hair.
If you want to keep medium-length hair, then this is the best style for you. Use some gel, wax, or cream to set your hair and hold it for a longer time. The style will bring out your personality and add more charm to it.
Spiky black hair with cropped up top and fading sides
The ultimate cool and funky spikes look so dashing and charming. The jet black hair is kept longer at the top to make cool and funky spikes, and the side hair is fading out with bald making the spikes look more prominent.
The stud kind of guy who likes to go for piercing and studs should go for this spiky haircut. The style is best suited for men with sharp features and cheekbones to carry this style perfectly.
Crew Cut with Fade
It is an ever-stylish look that you can get to take your fashion game up a notch. It is a cropped men's style that can be made short or left long, as per one's preference.
And like always, the fade in the sides adds a fun new element to the look, giving it a dapper and cool vibe.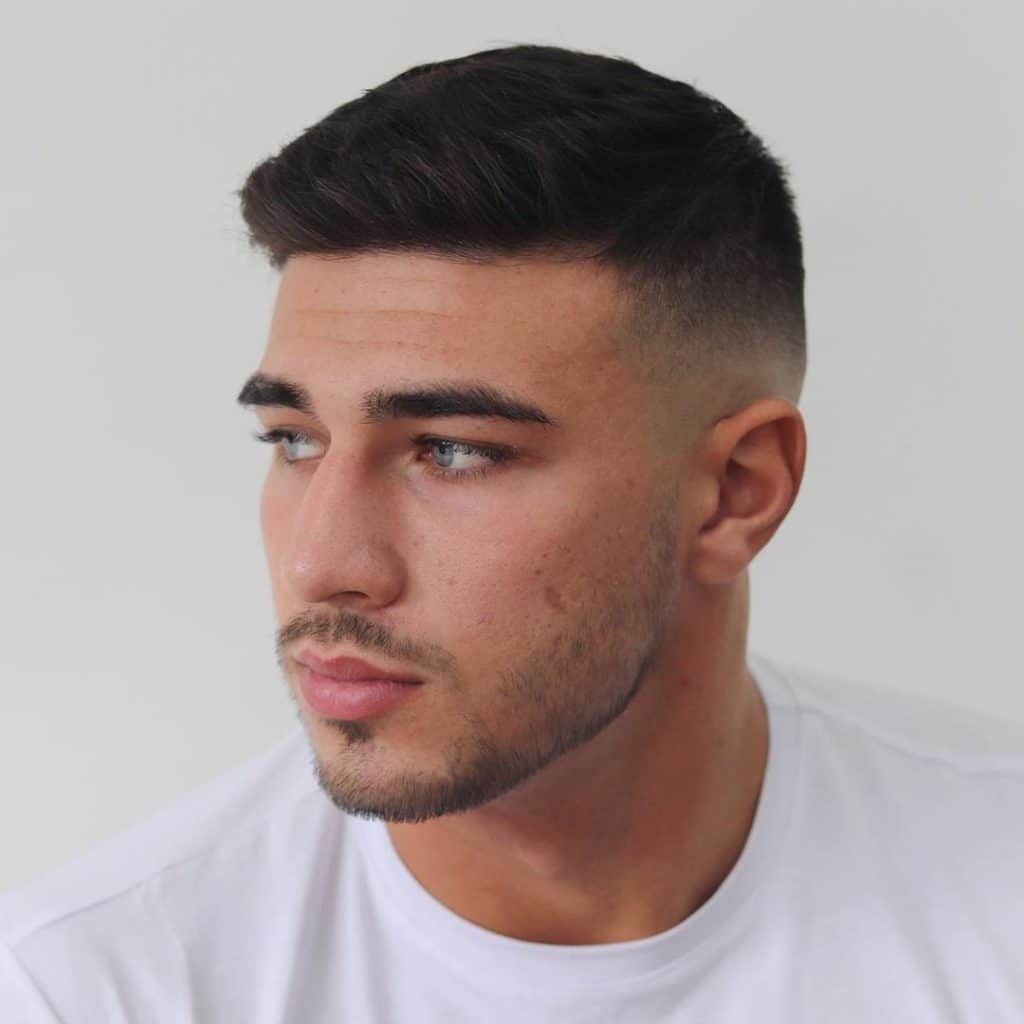 Big Spikey Look
The world is changing, and so is fashion. It is time for you men out there to come out of your shells and be bold for a change.
And what better hairstyle to make you own your bold and rebellious side than spikey hair with skin fades. It is your time to shine now.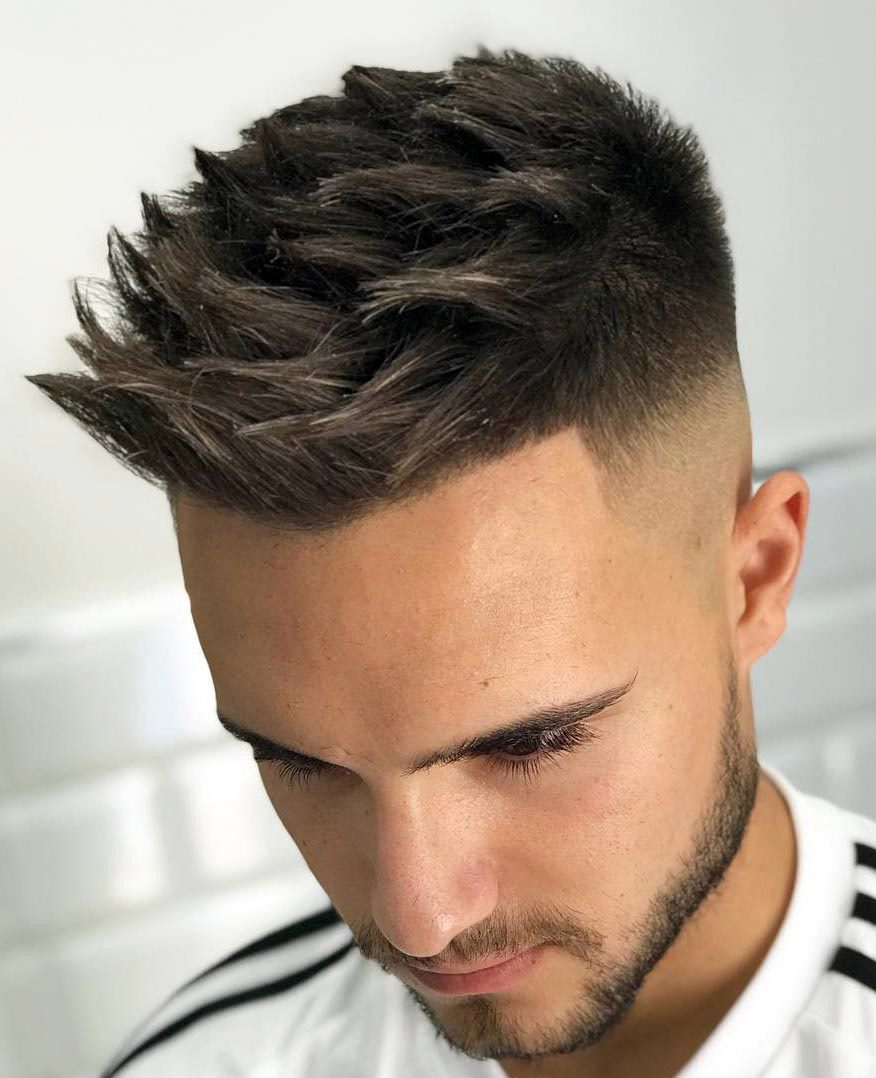 Textured high and tight haircut
No matter how many styles a man can get, some will always choose a short haircut. And if you are of those men, then this is the perfect hairstyle for you. Like the buzz cut men so dearly love, this hairstyle also has its roots in the military cut. The nice side fades with textured high can give one an elegant look.
Sleek Undercut with Side fade
All you men out there need to stop cutting your hair so short and need to leave room for further styles. If you wish to do so, this is the perfect hairstyle for you. It is funky, cool, stylish, and even long enough to try different styles or experiment with it.
Neat curly quiff
If you want to give your hairstyle a new look and look refined, this is most definitely the look for you. All you have to do is comb the hair back but gently so that it acquires its full volume. This is one of the easiest ways to get it done at home. You can put hairspray on it to make it set for a long time.
These are the best cool 25 hairstyles for men that look amazingly superb and dashing. These hairstyles are summer-perfect and apt for all occasions and parties to carry confidently and flaunt the utmost stylish look. These trendy hairstyles are for men taken out from the best professional salons worldwide.