Finding the perfect hair color and hairstyle for "men" is a bit difficult task. Though there aren't many men who would try different things in pursuit to get a different look. But yes, there still are. However, many fail to understand the fact that being simple can be the best look. Well, every man has different preferences and we respect that.
What is the perfect color for men?
Before we jump on to the discussion any further, let us take a quick look at the colors available for men. Tints, dyes, highlights, and balayage; everything seems to trend this season. The flavor of this season is everything that you can get. The newbies and the novice who have had virgin hair until now, here is the best color guide for you all to get started. It can be pretty confusing for those who are looking to take a new shade for a spin for the first time ever. Cut through the clutter and get straight to the fact without getting confused about the shade you want.
Do not waste time searching for color options. The more you think, the more confused you'll get.
Do not shy away from getting your hair colored. Guys, please don't think that dying/coloring is not for men. It is. 
Think about the color dimension. Are you searching for a low or a high color? A dye or a tint or highlights or lowlights; it's your call. Consider the color. Do not get confused.
Here are a few options that would help you get the right cut and color. 
Copper Brown
This is one such color that indeed gives the best look to the guys. Copper brown color/balayage/highlights or lowlights always look great on guys with warm tones. Color doesn't need any haircut or face cut.
This color is a common one and is indeed the best-demanded hair color; especially for those men who are newbies or those who are trying it for the first time. A copper brown is perfect for those with curly hair, short hair, straight hair, or any other haircut. This color will give a dimension and appeal to all hair types.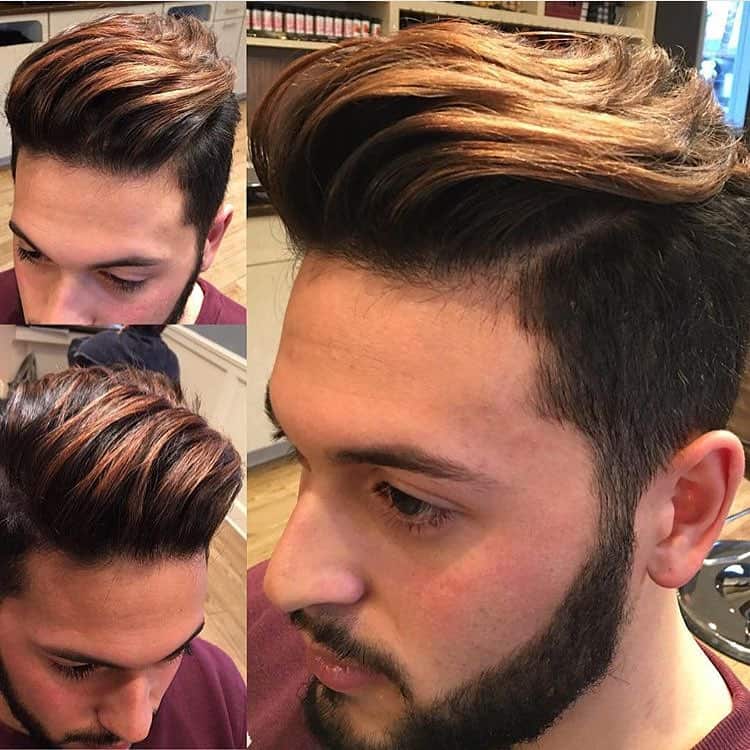 Salt and pepper
As much as this shade looks good on females, the males too are rocking high with this new salt and pepper. Why this name? You can call this a balayage of medium gray and light back global hair color. As your age catches up, your hair starts turning gray.
A few black can be seen here and there. So why keep them unkempt just like that. Get a salt and pepper hair color. It looks good on men with all haircuts and all complexions. Rock this with complete pride. 
Purple punk
Weird yet sexy. Why only females? The men should also carry this color with their heads up and make others' heads turn. Full bright hues of light and dark purple over that wavy hair. The balayage gives that ultimate look to the hair. So now that you know that purple is also in, get that hue for a change.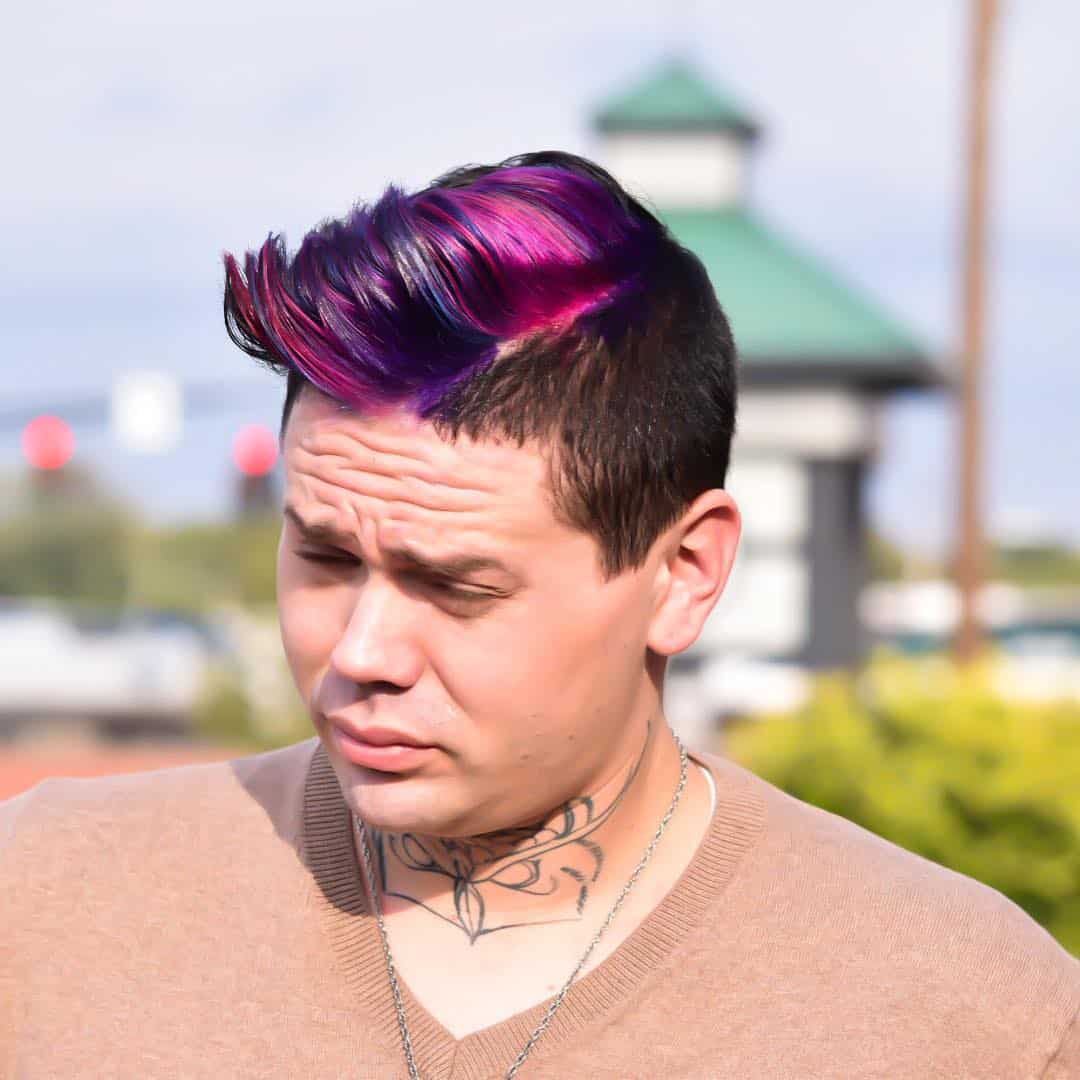 Multicolor highlights and streaks
To get a cut that is completely not meant for boys is as daring as getting multi-hued hair. Streaks and highlights of various colors give a dimension to the personality. A bold, daring, dashing, and extrovert personality comes out with such colors.
Though this is totally not a typical "boy type" yes if you guys consider this as a different and a new look option; thumbs up for this. Little long spikes work great for this color.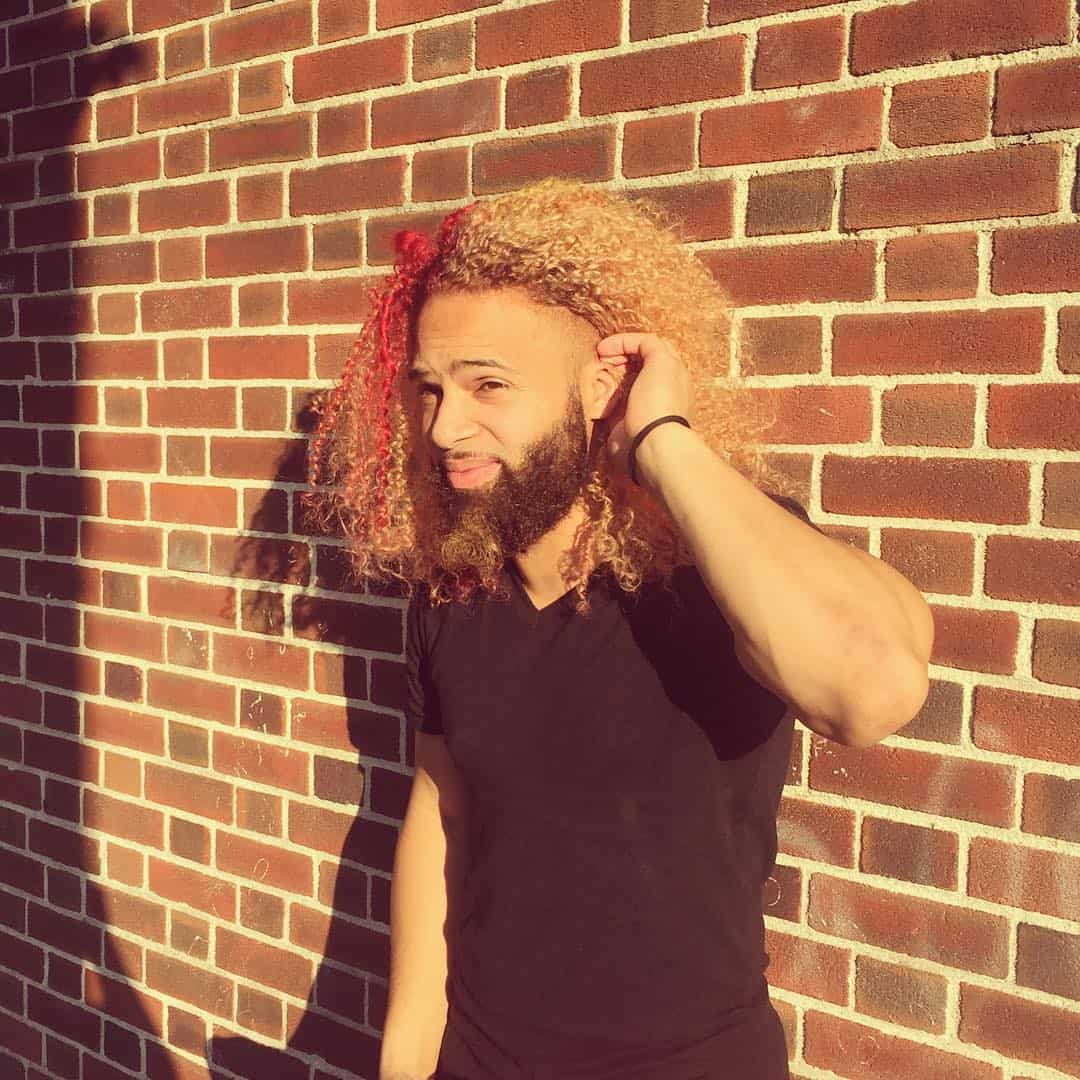 Medium white balayage
So all the boys who are going crazy to get a chance and hair makeover, this medium white balayage is completely for you. If you are middle-aged and your hair is already giving you your age alarm, this color is perfect for you. Why carry your grays, when you have an option for color that will spice up your look.
So get ready for this amazing medium white balayage with a little hint of black. You can create any style or any look with this color. Style/cut doesn't matter much if you're able to carry out this style with ease. If you are a corporate person, this one is perfect for you.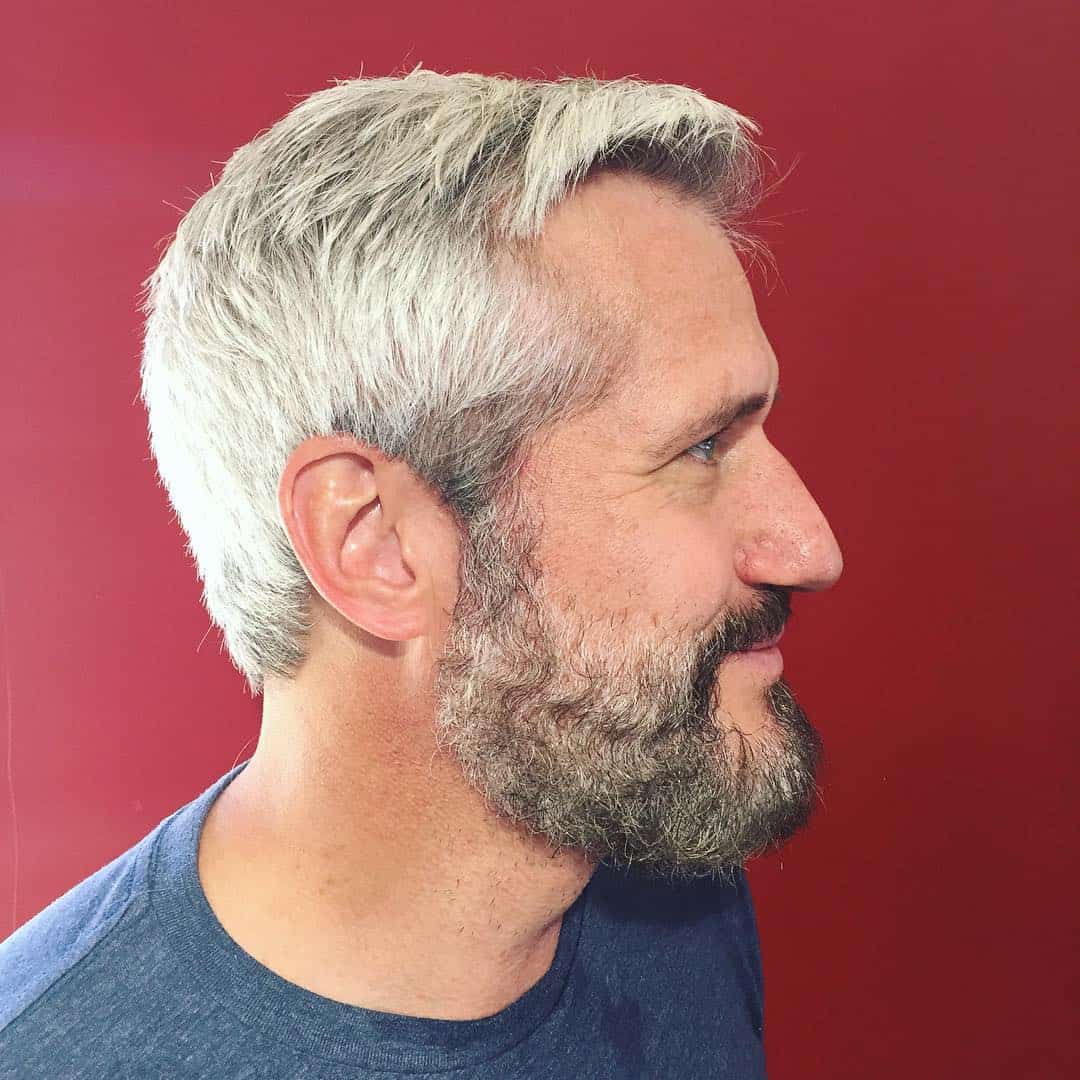 Dark blonde
Blonde is way too common for all. There was a time when the blonde was much in trend amongst the girls. But the color of the season is dark blonde. Because blonde doesn't look good on guys, there is a shift in the color. Dark blonde is something like dark to medium brown.
This color looks good on all haircuts. From short hair to long hair, from spikes to curls, dark blonde suits everybody. Boys too love it and prefer to get it done. When in confusion, opt for this warmer tone of blonde and brown.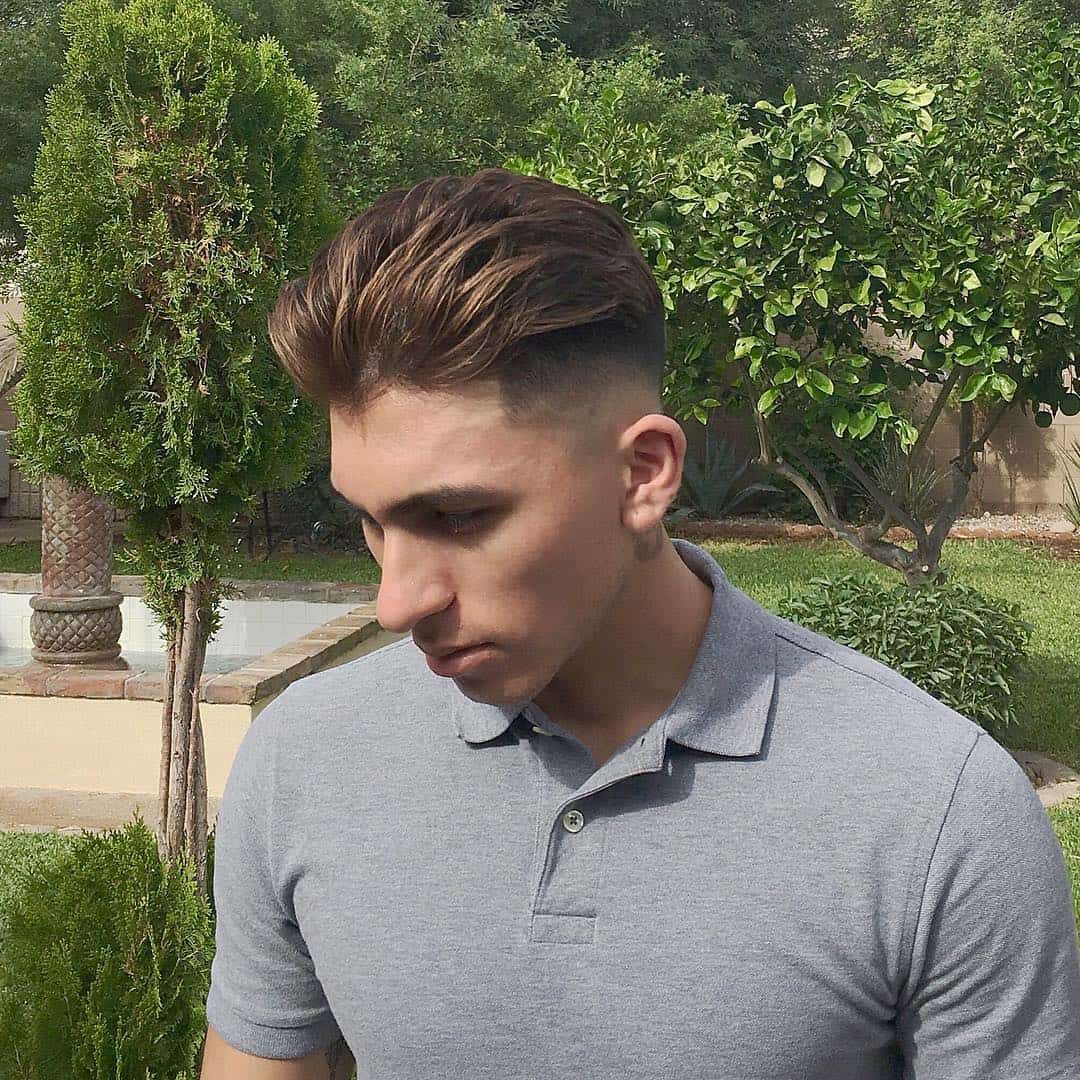 Neutral brown highlights
Whether highlights or global hair color, warmer tones are something that every male prefers. This neutral brown is a very versatile color and is much in demand by young boys as this complements every skin tone. This is best suitable for men with medium to fair skin tones.
However, skin tone doesn't play many criteria with the boys. This is not a vibrant shade, thus a global color can be opted for.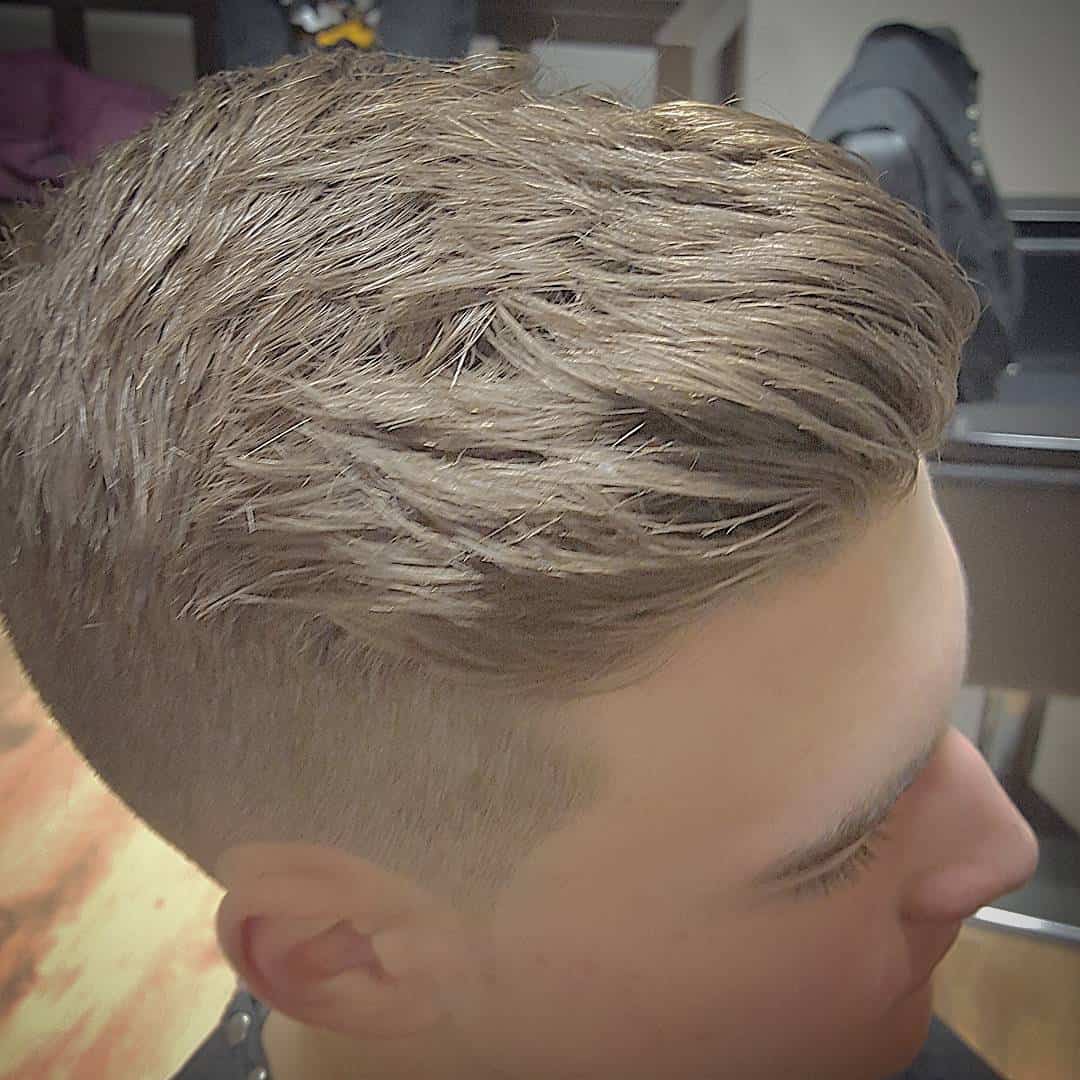 Deep red
Shorthair, cropped hair, pompadour haircut, layered or stacked layered; the deep red color is something that young boys are opting for. This is another experimental warm-toned color. Red might sound vibrant and unique and loud too, but it is not exactly red.
A deep red hint of shade either done globally or a hint of it looks good and edgy either way. I would call this tone a hint of cool and edgy color for boys.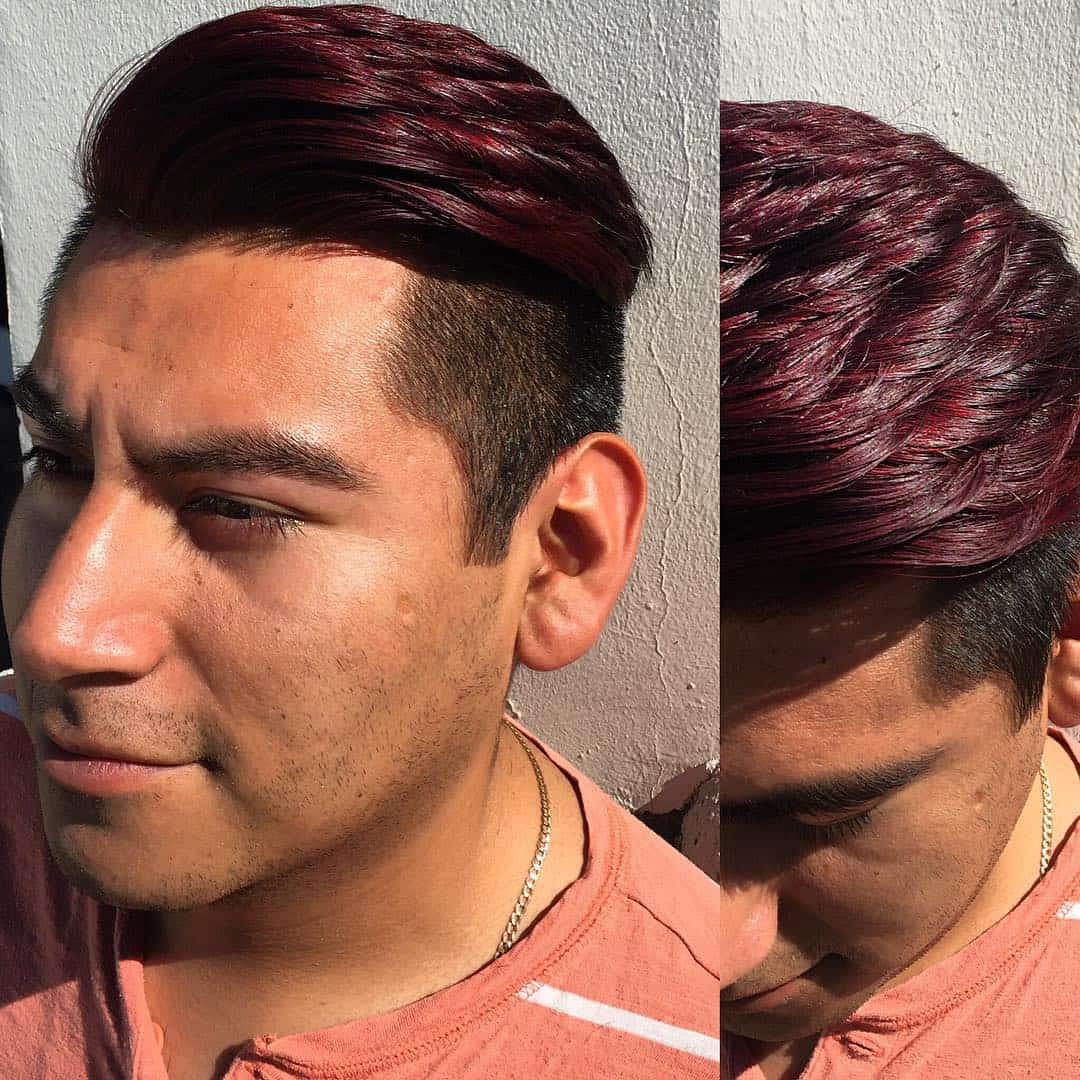 Teal blue highlights 
If red or deep red wasn't enough, here is another eye-catching color for sure. So now that you are on an experimental spree for your hair, boys, trust me, this one going to be really fun and an awesome one. Teal blue or a tint of blue shades here and there, covering the edges of the hair or right there at the nape of your neck or just a few streaks to cover your bangs.
Teal blue is a really funky, cool, and bold color; for boys at least. Not only the girls but the boys too are taking out time to experiment and play with cooler tones, not meant for them.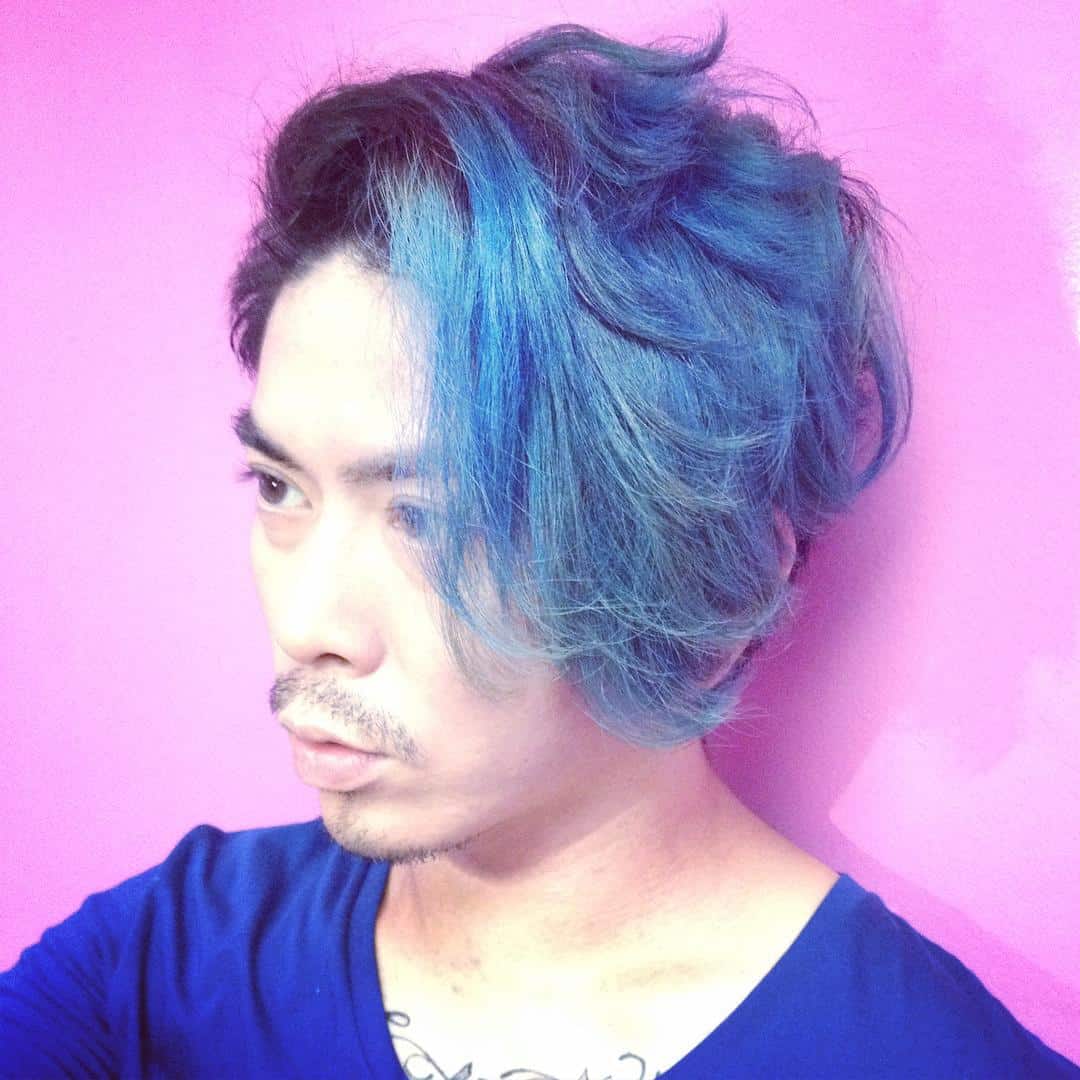 Cinnamon
Yet another warm shade of brown. This is not that common light brown but a mix of brown, red, and copper. Either highlights or global or even a balayage would look great on boys and men of all ages.
Men can opt for a hair color change like "cinnamon" at any age. Looks good on all haircuts and face types and compliments any complexion.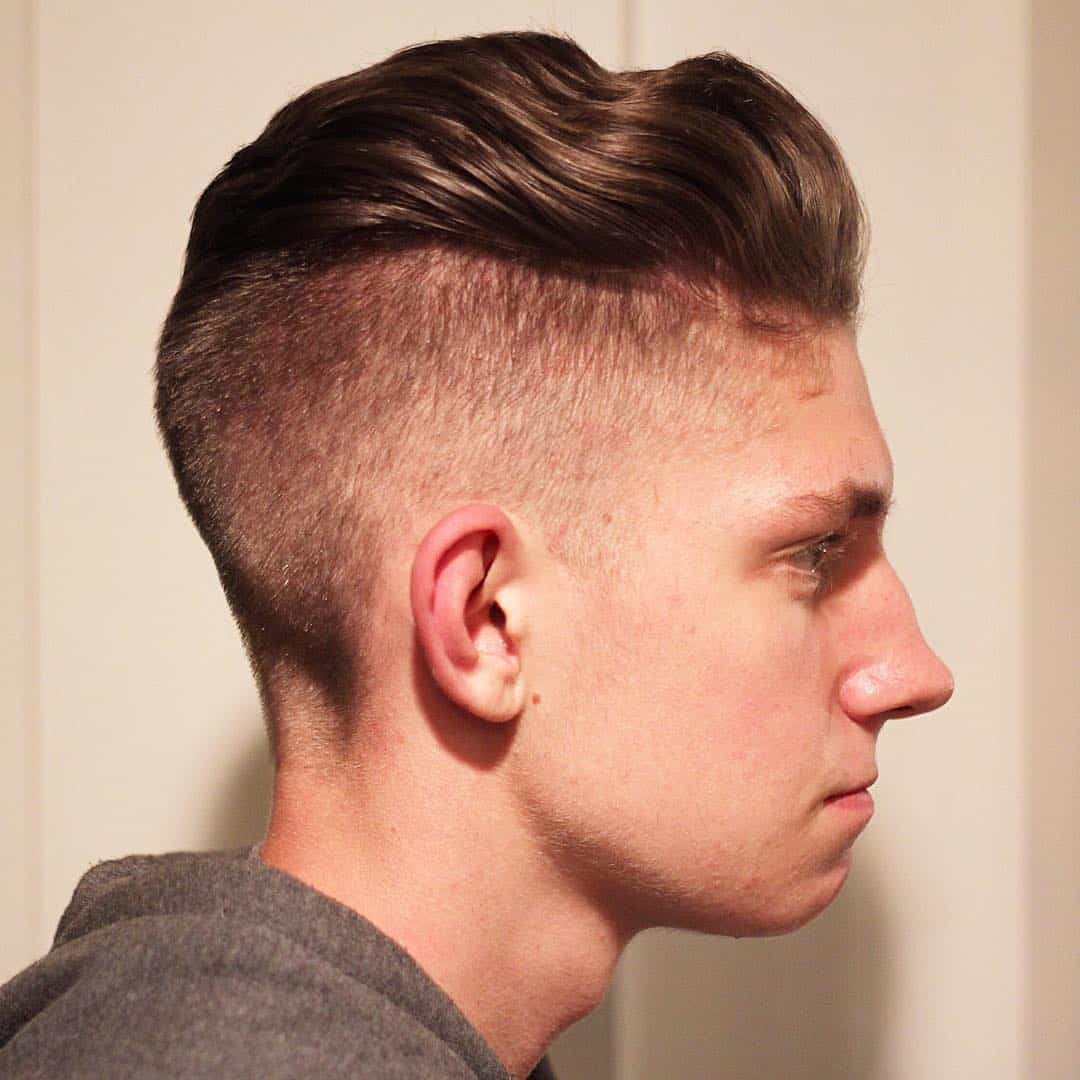 Green textured
Another very vibrant and bold statement is given by this unique hair color. It is the time to get a makeover for boys. If you are too apprehensive about using any of the bold shades as your hair color, you can also opt for those temporary hair chalks as well.
Various brands of hair color have launched such temporary hair chalks that will color your hair but only for a period of time. So you can now get a change that is temporary. And if you really like this temporary change, go for a permanent hair color change.
Burnt orange
Get ready to set the stage on fire. Brighten up your hair days. It is your time for 'good hair days. All things sunny and fired up are the color for the season. So there is nothing like "girlish color".
Burnt orange is bright orange balayage. Orange is a very bright hair shade, so guys you have to be very sure whether you can carry this color or not. This color is for the younger lot.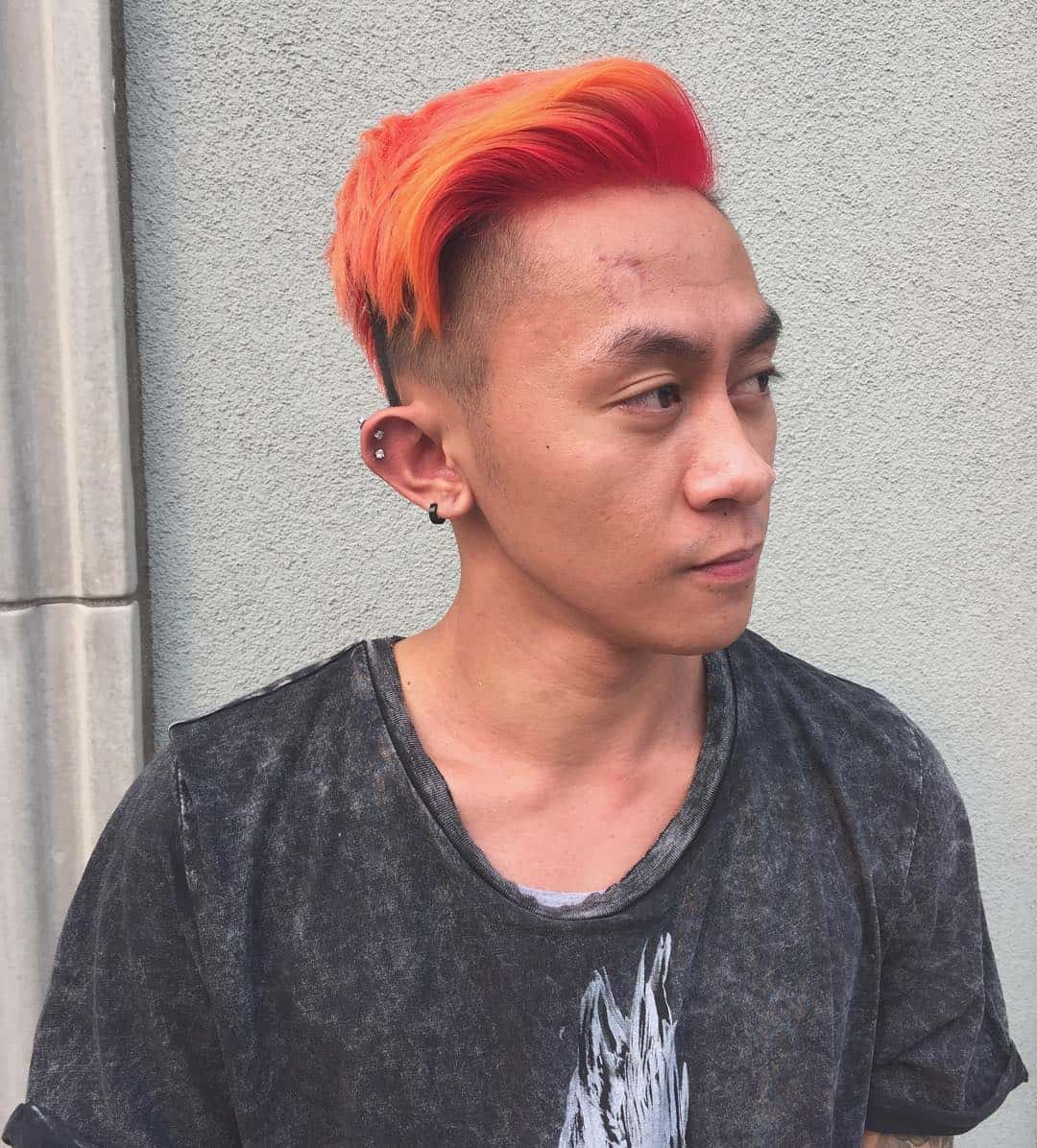 rainbow hue
If you're a funky guy, a fun-loving and a bright lad by nature, opt for something that will compliment your personality. This rainbow hue is a perfect blend of hand-painted bright shades like fuchsia, purple, green, blue, and a couple of highlights that you prefer.
So basically there is no such particular shade in "the rainbow hue". You can get as many highlights/streaks of shades as you would love to carry. As the name suggests, this is a combination of several vibrant colors. Now the "rainbow" doesn't literally mean that it should carry all seven colors of the rainbow. A cool, funky, and unconventional shade for boys and men.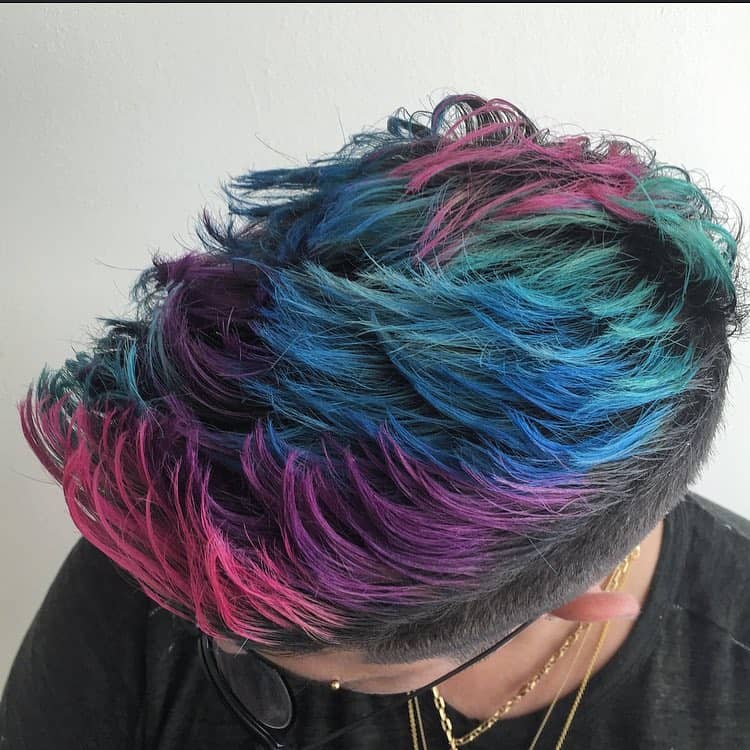 Black magic
Everybody does not have virgin black hair. Thus this color. Many gents naturally have light brown or brown or light golden hair. So for them, a complete black will surely be magic.
Just like men with black hair want a makeover, similarly, men with brown hair sometimes prefer black too. It is never boring. You can carry this change with ease and comfort.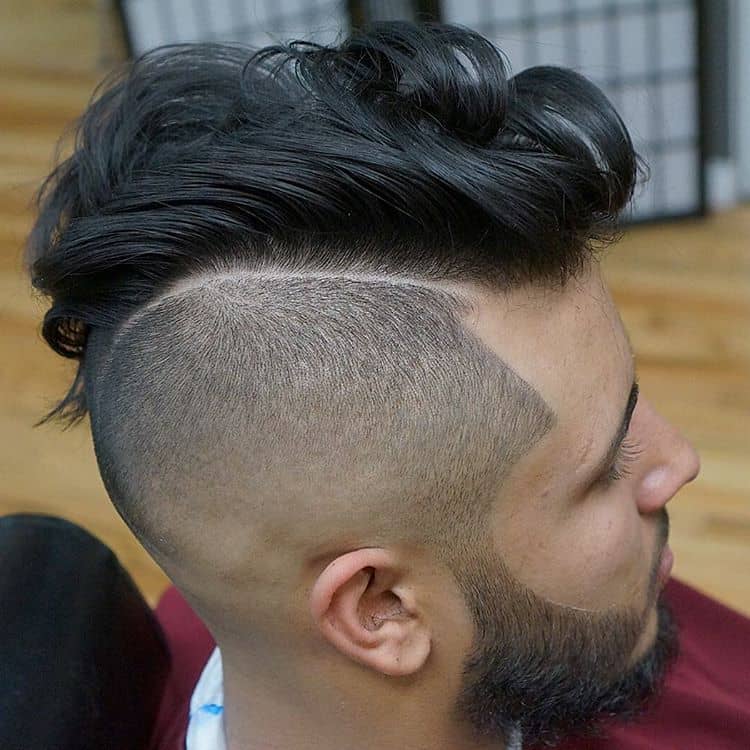 Light blonde
This color is the most preferred color by men. This is a gorgeous hair color that anyone can get. Men usually do not pay much attention to choosing hair color.
But when they do, they'd rather prefer light blonde over any other tone. This is a vibrant golden hue. Best suited when a balayage is done with brown to blonde.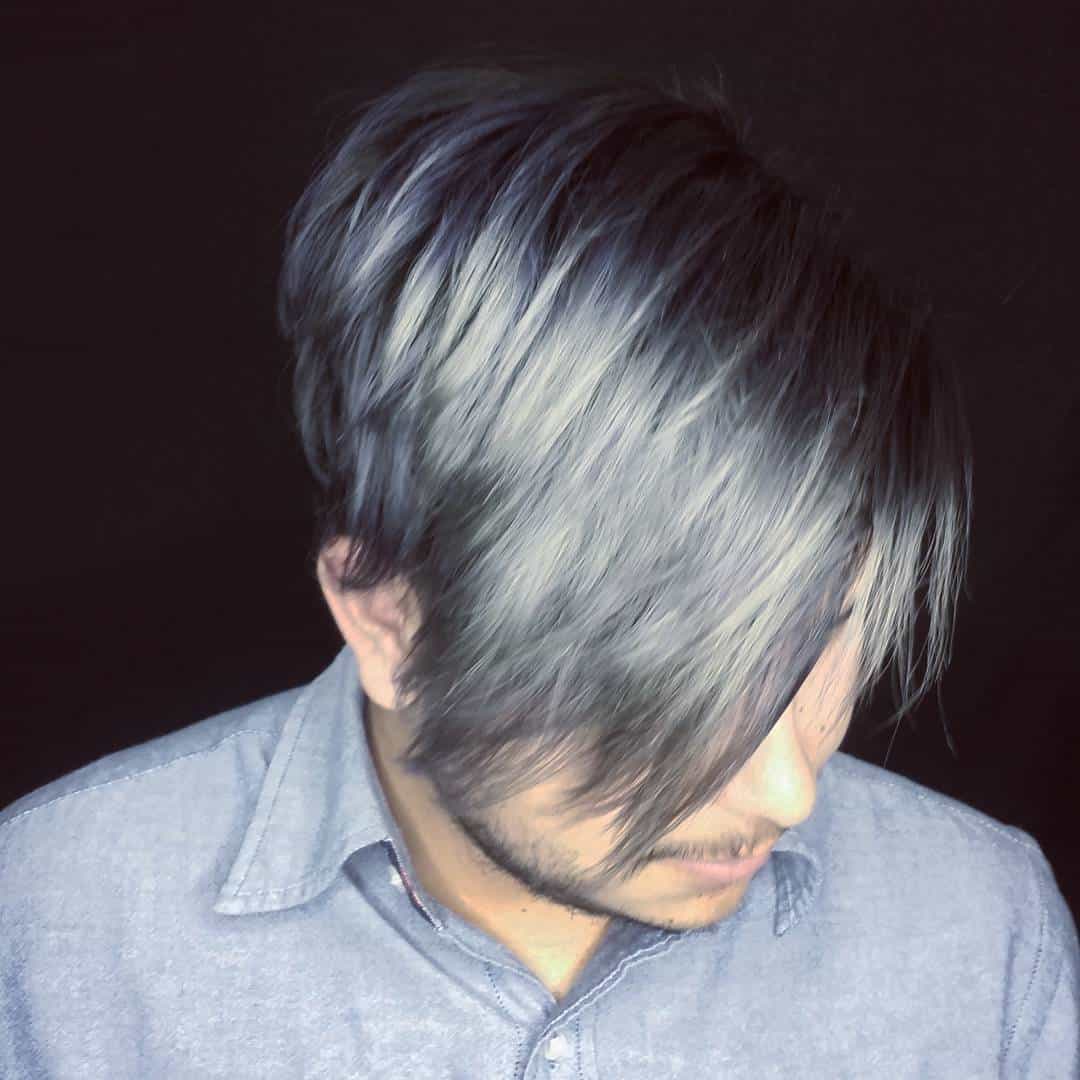 Ivory white
Closely shaven hair can be given much detailed hair color like this one – ivory white is something that all men do not prefer. The youngsters go by this choice and those who are in the corporate world. This color makes you look older than you are. It is an unconventional one but definitely the one in huge demand.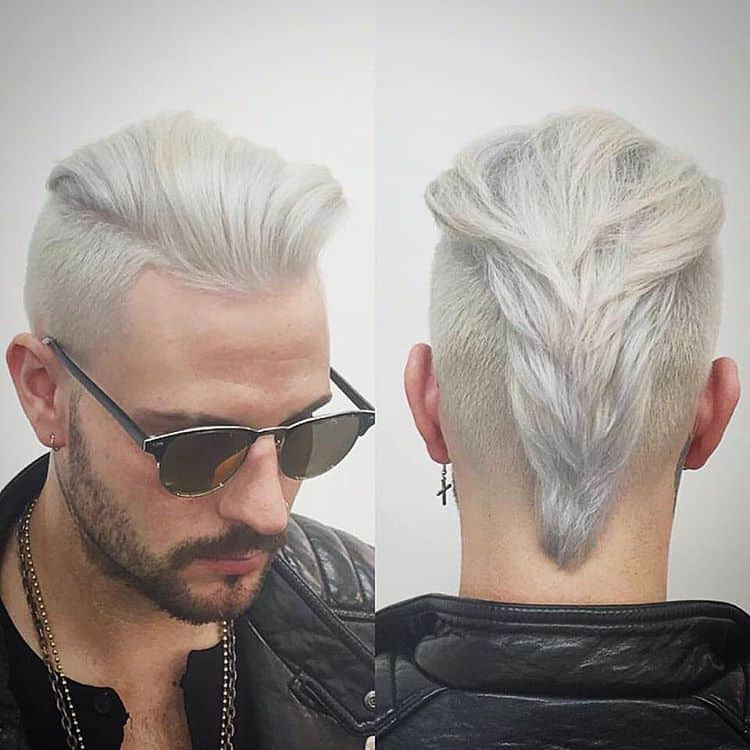 Dark blonde and light blonde balayage
This is still a rage amongst the youngsters. Balayage is a delicately hand-painted technique where color is spread evenly. Men look good in a dark blonde and a light blonde balayage.
Unlike the lighter one, the dark shade creates an illusion of shinier and healthier hair. Try out this balayage with various haircuts and hairstyles. Works on all complexions and all age groups.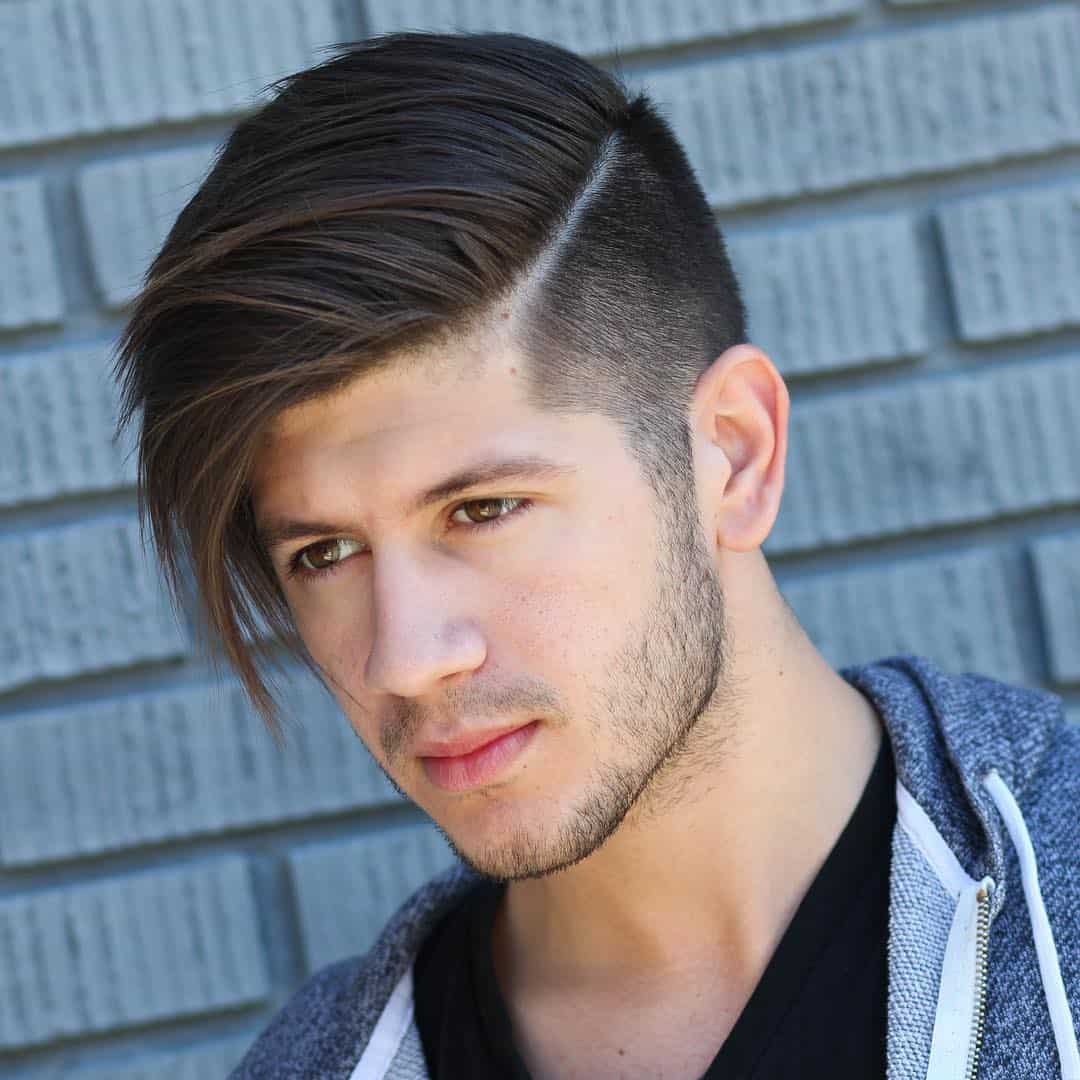 Platinum global
Platinum is a color for classy men who like wearing sparkling white as a corporate look. This gives a professional and stylish look too. What makes this color more appealing is the fact that it is white but it is not sparkling white. It is a delicate mixture of whitish tones and a little hint of blonde in it.
This color looks the best when you have straight hair. The ones with curls or natural waves shouldn't opt for this one. It goes well with straight and fine hair and gives you a clean, tidy, and corporate look.
Red streaks with bangs
Not many must know the fact that if your hairstylist is giving you bangs; it is not only for fashion. Bangs are mainly and majorly given to those who have broader and larger foreheads. And when you add a hint of any vibrant color like red or blue to your bangs, it gives an all in all a different look.
Why keep your style a normal and a plain one? Now, this color is so apt for all those who have coarse or thicker hair as it will not give a vibrant appearance. 
Golden brown
The ash tone is a typically new color. Not many are aware of this one. If you want a little change in your hair color, I would suggest you select ash brown. This is only second to dark brown or natural brown when men prefer natural and warm tones.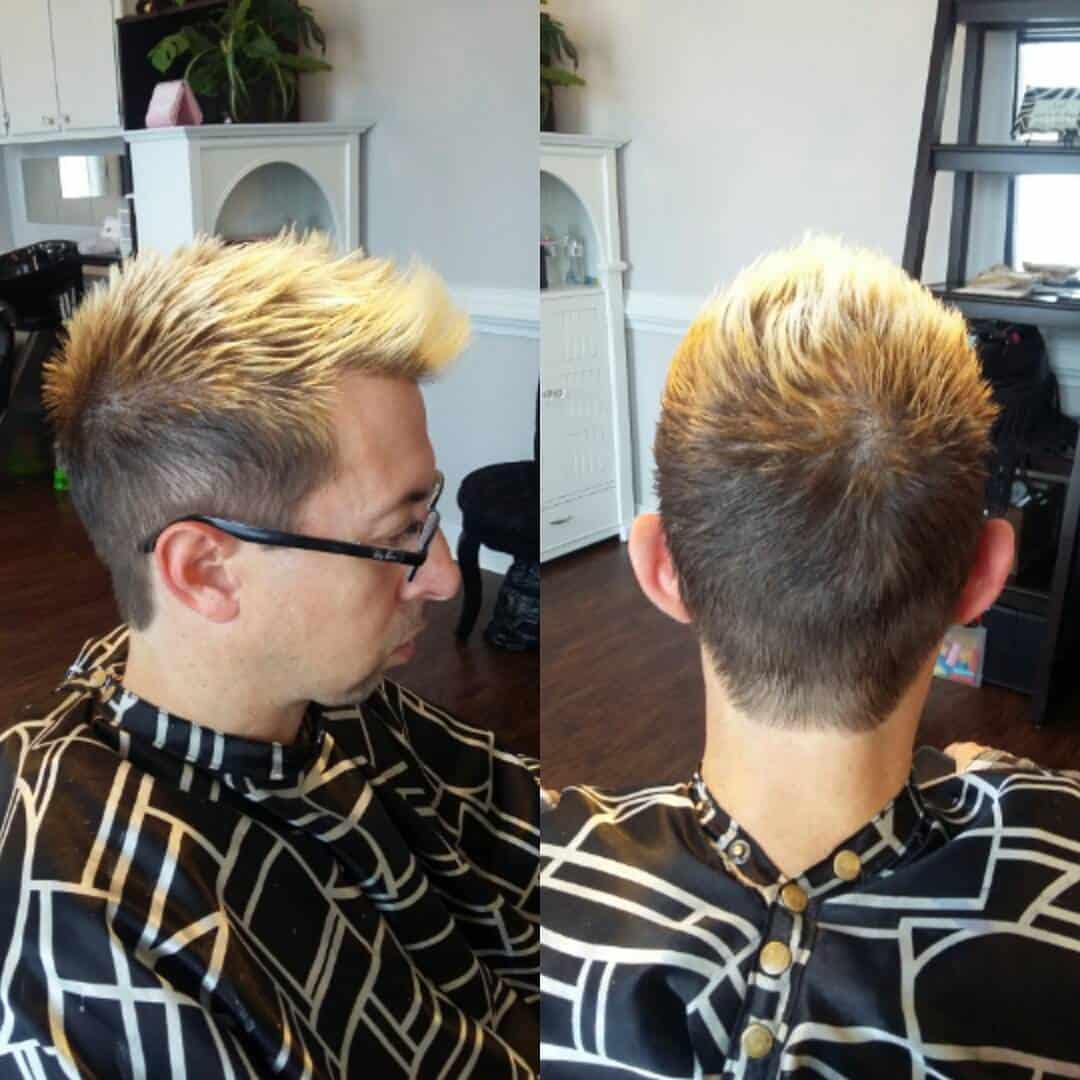 All out color
Like the name, like color. The name says it all. An "all-out" color is nothing but the vibrant shades that men prefer respectively. It can include an array of shades available with any hairstylist. Either red, maroon, blue, orange, purple clover, green, turquoise, cinnamon, honey blonde, and so many other shades.
It depends on the hair type and personal choice that men want. Such colors are not only vibrant but also give a different and out-of-the-box look. Get either highlights or a global color; both will look great and experimental at the same time.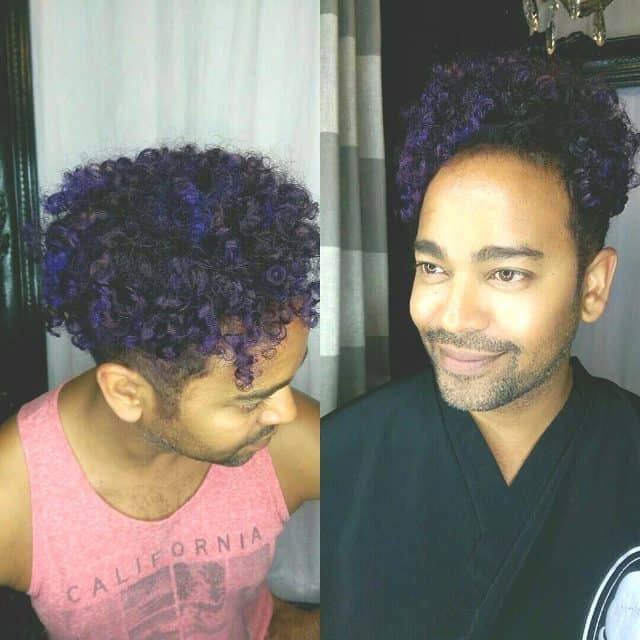 Smokey grey curls
For this look, hair needs to be bleached first and then an ash grey or smoky grey tone is given. The majority who are novices might think there that there isn't any difference between the salt and pepper look and smoky grey.
But there is a vast variation. Give a balayage to your curls that will add to the look. This is simple to look at with a touch of suave.
Ocean green curls
Your hairstylist might get your hair bleached first. The bleach will act as a base for the color to come out beautifully. Short curls already make your hair look thin so you need something vibrant to show the volume.
Ocean green is a not-so-common but amazing color. This shade suits especially dusky skin tones by enhancing the tone. Rough hair will work best with the color. 
Purple green pompadour
A great way to give a whole new look to your pompadour is by coloring it. One single color will not be enough to change the look. Two vibrant colors like purple and green will be a perfect combo. Get your roots colored in the bright purple whereas the pompadour will be in cool green. 
Color swirl
Pick any three to four bright colors you like. Ask your hairstylist to put all those colors in a color swirl on your hair. The right layering would be light colors in the middle and dark colors on the top and bottom. The hair shade will look how good on your hair depends on the way you style it. 
Platinum grey
Not only girls but boys get bangs too. Fringes help you reduce the width or length of your big forehead handsomely. Apart from getting bangs for a new look, you should get your fringes colored too.
Platinum grey will be the perfect choice for jet black hair. You can also platinum grey highlights on the back if you have long hair. 
Green Side
You probably not have seen anyone coloring their this way. Coloring your hair slightly on one side is a unique way to get a beautiful shade on your hair. Parrot green shade will be vibrant and suit your naturally black hair. A short haircut will work best with this look. 
These colors are nothing but to accentuate the look for men. You look great and graceful at the same time. Get away from your old-school look types. Create and experiment with something really cool.