With so many cool and amazing hairstyles for kids these days, it becomes difficult to choose one. Kids these days keep their hair in an unkempt way and like it to be messy. They don't make it a point to brush their hair on their own. Therefore, parents nowadays like to keep their children's hair as short as possible to be kept tidy without caring much.
Even parents are very fond of styling their kid's hair according to the latest trends, and with so many latest styles running in fashion, parents have a lot to pick from, whether it is for a toddler or a kindergarten child, or school kids.
Kids usually like keeping their hair short so that it does not itch and sweats all the time, and they also have their opinions on how they like to keep their hair set. Whether you are looking for short, medium, or long hairstyles, there are plenty to go for, or you are thinking of a hairdo for straight or curly hair type, there are still many cute and cool styles to opt for.
Tips To Choose The Perfect Hairstyle For Your Kids
If you are among those mothers who find it difficult to choose the exact hairstyle/haircut for your child, you need not stress much as there are plenty to pick from. Here are a few techniques that make it sorted for you, helping you choose the right one for your little ones.
Face Shape
The shape of the face is the primary part when choosing a hairstyle, as it plays an important role in deciding the exact one. If the shape is elongated, you must go for medium hair length styles, or if the shape is round, you can opt for wavy to curly hairstyles.
Hair Volume
While choosing the haircut, you must first keep in mind the hair's thickness because not every style looks good on everyone. Therefore, if the hair is thick and short, you can side sweep it or give it a crew cut or make spikes, and if the hair is probably thin and long, you can fringe style it or let it fall to the shoulders or tie it in a bun or choose other variations too.
Hair Texture
When picking a hair pattern, you must also know to be aware of the hair texture, whether wavy, curly, or rough and messy. It will help you in selecting the right style.
Stylish haircuts for boys to try this year
To help parents find the perfect style for their kids, considering their hair type and texture, here is a list where you will see everything from short cute haircuts to long, curled, messy hairstyles.
Side Parted Fade Cut
As boy's short haircuts have always been in style, this hairstyle is patterned with slightly visible hair on the left and the rest of it on the sides. The hard or the dense part of the hair is wholly on the right side and brushed towards the left.
The hairstyle looks very cute on kids who want to keep their hair short and is one of the regular styles that can go with any hair type. Little kids love to maintain such a look as they can keep it for a longer time.
Layered Faux Hawk
The layered faux hawk has always been in fashion for little boys. Small Boys who want to give a touch of cool and funky look to their hair can go with this style. The styling can be done on medium-loose hair but with a straight texture.
With a few strands on the sides, the hair is brushed in the middle of the head, giving that funny and sweet look on the face. Layered faux hawk styling can be done on pre-school kids who love to play with their hair.
Bald Sides with Buzz Cut
If you are looking for a hairstyle that is eye-catching and makes your kid look super cool, then this buzz cut can be your next style. The buzz cut is designed with a semicircle in the middle pushing all the hair in the middle and adding a shape of baldness on the sides.
It can easily be styled on dense hair that is curly or even on short messy hair to give it a perfect look as it keeps your hair rigid and tidy. When your kid is going to some birthday party or a special event, this hairstyle is sure to catch all the attention.
Messy Curly Style
The messy curly style represents a bold look that looks stunning on young children with thick curly hair. If the hair isn't that curly, you can also use hairdressing tools to style the hair and brush up all the hair in the middle in the upwards direction using a roller or a curler.
Make sure you don't use much of the heated devices on your hair. The curly style looks absolutely amazing with a fade haircut on the sides to add a bit of that boyish spunk.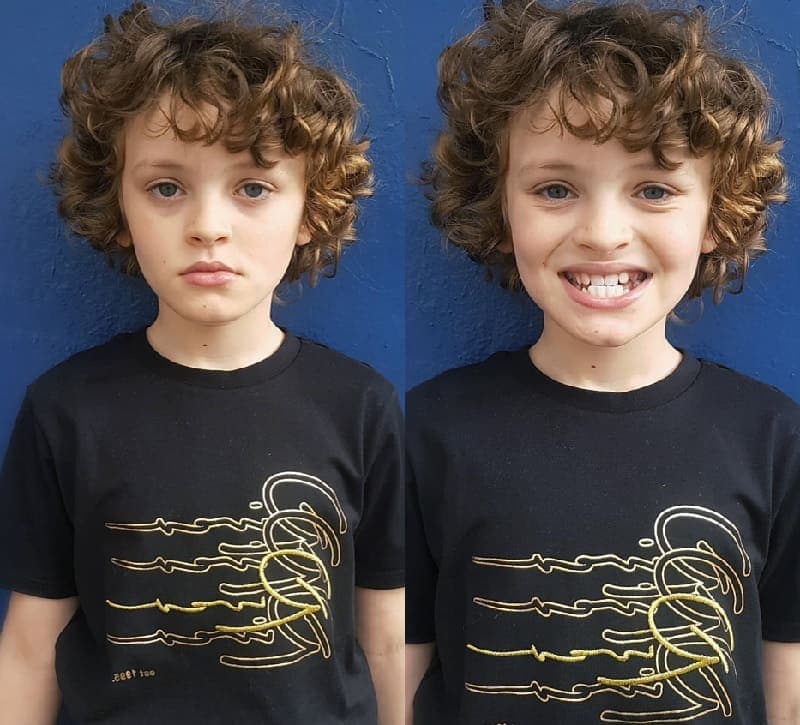 Boys Mohawk with Bald sides
The boy's Mohawk style with bald sides is an upgraded version of the faux hawk. The style is mainly for adolescent boys who have their own sense of style and like it to be artistic. With bald sides and spikes in between, it looks really edgy and classic.
Kids who like experimenting with the hair and are fond of styling their hair every time can surely give this look a try. The style brings out a person's inner attitude, and to maintain it for long hours; you need to fix your middle-faux spikes using a hair gel.
Long Step Hair
Mothers, you need not worry if your boy has that long fallen hair. Long straight fallen hair looks extremely beautiful when given a layered step cut on the sides.
Though not many kids or boys like to keep their hair that long, if your child is an exceptional one, you can try this style out and walk with a handsome child at weddings and all those special events. The style will really make your child look dapper and attractive, and people will be in awe of such a hairdo.
Textured Crop Angular Fringe
Well, if your child has long brown hair and is fond of keeping fringes towards the front, this hairstyle has it all. The hairstyle looks elegant on schoolboys and kids with long hair pushed in front, while the backside of the hair is brushed towards the front bringing that charismatic look to your face.
The sides, however, remain slightly faded with all hair in the front covering your forehead, making you look super cute overall.
Messy-Shaggy Hairstyle
The messy shaggy hairstyle is well-known among kids who like to keep their hair in an unkempt manner with fringes overall, adding up the little swag in them. The style looks great on decent boys that like to mess up with their hair without the need for much combing.
The sides, however, look amazing and are ideal for those kids with short straight hair. The style is best suited for boys that are cheerful in their own way, and to make the hair cut last long; you just need to apply a bit of hair gel to keep it good.
Faded Sides with Scorpio Mohawk
The Scorpio mohawk is a classic haircut for boys and men. The faded sides with Scorpio mohawk look best on black boys with sharp, edgy hair with short curls.
Suppose you notice the middle part of the haircut, which is curved very finely towards the neck's back, showcasing that thick Scorpio mohawk look providing that ultimate look. If your kid's hair type is thick and curly, plus you are in search of some unique style, this is highly recommended.
Tapered Shaped Hair
The tapered-shaped haircut is best for black boys and is a combination of style and elegance. With a tapered cut on the sides and front sharp tamed look, this haircut will make your child look different, and if he is blessed with those dense black hair, this look is a must-try.
Also, to add more style, you can color the mid part of the hair to make it look more edgy, which may be brown, or if you want to keep it natural, that is also pretty cool.
Braided Samurai Cut
In general, people think braids are only meant for girls, but the case is different here. Braiding or plaiting hair really helps in keeping hair organized and tangle-free. This Samurai braided cut is one of the magnificent styles that will make your kid look cute and brave as a warrior.
The tapered sides with the braided Samurai in between are for all those kids with long hair who don't want any on their faces. The cut gives a neat look on the face and holds all your kids' hair for quite long intervals.
Classic Curls
For kids or toddlers with naturally curly hair, this style looks very appealing to the eyes. The hair on the sides is cut small, while the middle hair part is cut a few inches from the roots to maintain that natural look without making much effort.
Natural curly hair always looks beautiful, and with this hair, the child is definitely going to look more adorable. The cut is also recommended for schoolboys who love their curly hair and look forward to designing their hair effortlessly.
Basic Slicked Haircut
You can transform your kid into a really decent man with the basic slicked haircut. The hair is cut short, giving a clean appearance. The sides of the cut have a fading effect, and the center part of the hairline is brushed to the opposite side of the hair side.
You can style it either to the left or right, depending on the part that comforts your kid. This slicked cut can be achieved easily and is best for schools or any regular outdoor event.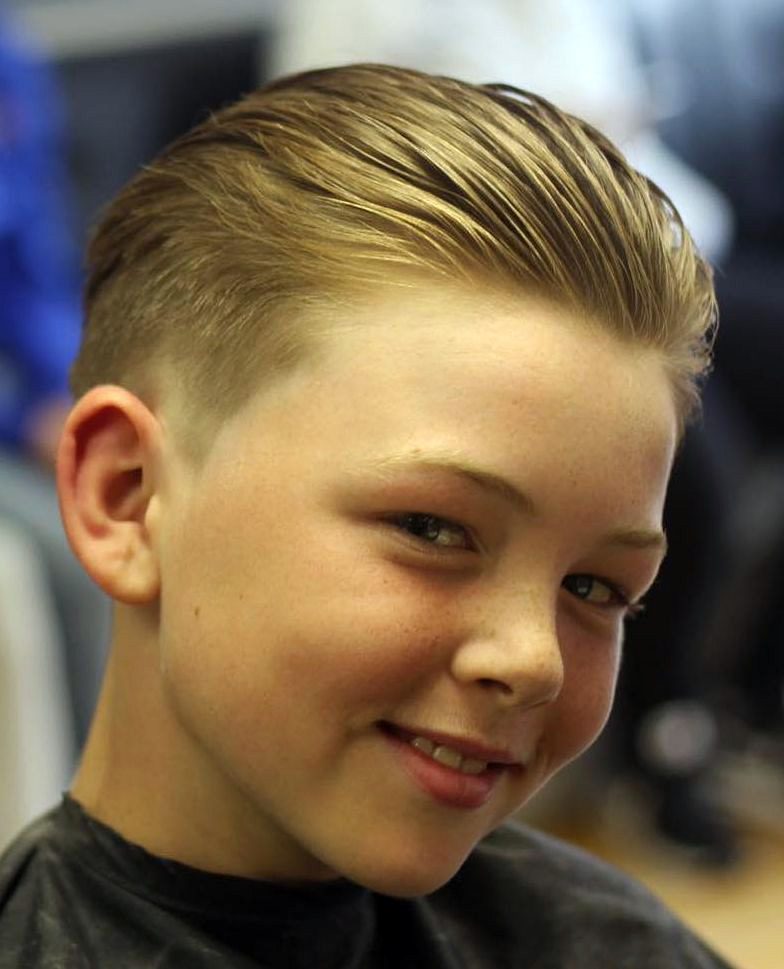 Long Sweepy Haircut
If your little one is a real fan of long hair and is unwilling to chop it off, this cut might help you. The cut has hair spread evenly all over the head with smooth fallen waves downwards touching the ears. You just need to sweep the top hair forward, and voila, it is done.
The stress of styling long hair is no more a mess, plus the fringes like the cut on the front will make your child look awesome in every way.
West Afro Cut
It will be easy for kids with tiny curls to style up this hairstyle. The afro cut looks great on any short hair, irrespective of the shape of the face. This cut will surely make your child free from itchiness and sweat and make him feel free and carefree.
You need to ask the stylist to twist hair here and there and set it properly so it doesn't look messy and untidy. The cut is originally inspired by the black west region people internationally and is still an ongoing trend.
Long Dreadlocks
Just as the name sounds, these long dreadlocks are highly attainable on long thick hair. This style is inspired by black people as they tend to keep their hair long with thick dreadlocks.
The style looks real epic, and it is one of the best ways to amalgamate your hair with half up and half down, giving that extra gorgeous look to your long hair. Thick, tied braided hair feels really good as they keep all your hair groomed in a tidy manner and will prevent hair from popping out.
Caesar Hairstyle
Caesar's hairstyle is quite simple to do and maintain. The haircut is best suited for summers as it works super amazing in short hair. The Caesar hairstyle is for kids and boys that do not like combing hair much as the cut remains the same throughout unless really long.
Children with such haircuts remain relaxed for a long time without caring and taming much. The style is perfect for little boys, as they can simply pull it off anytime.
Short Taper Cut
This short taper haircut is generally for little boys and is famous among men too. This well-combed hairstyle brings out the elegance in your sense of style. The style is very easy and can be achieved in minutes.
Provided, to maintain it for longer hours, you need to apply some gel or spray, and your son is ready to groove around with style. The style is highly preferable during summers as it holds all the hair in its place without any flyaways. The hairstyle is perfect if your boy boasts thin hair, giving that masculine look to your son.
Military Cut
Also commonly known as the crew cut, it is undoubtedly best for school children who want minimum hair without the need for brushing and caring. The style has been adopted by the armies and remains in trend till today.
No haircut can beat summer as it will make you feel completely free because you can clearly see the cut is as close as shaved. Boys or men who want to get rid of all the hair without going bald should definitely try this.
Mushroom Cut
However, as funny as the name sounds, the style is as charming as your kid. This haircut has been one of the most wanted among little boys that possess blonde or golden hair. The style is altogether very different, shaped like a turned bowl on the head.
The kids pull off this cut really well as they love flipping their long hair, given this haircut is done. All you need is long silky hair to ace the style and an expert who has the ability to give you the exact cut.
Long Blonde Waves
The style allows hair to fall on both sides from the center and then graze to the shoulders smoothly. This style works best on long shoulder length wavy hair as the cut is as notorious as your child. The special part about this hairstyle is that it is also versatile, and you can get it styled by a professional.
The style and your baby will obviously catch a lot of attention, and the people around him will go crazy for once.
Angular Fringes
Boys that like fringes on their hair are known to possess a sportive personality. However, this style is too good for your boy if he wants to rock his look all day. Salon experts can do the cut with the maximum volume of your hair falling on a particular angle, which may be left or right, depending on how you choose to keep it.
If you notice the other side, it is well tapered with minimal hair. The style is unbelievably iconic, and your child will look no less than an actor.
Modern Style
The name modern gives pure justification to the style, and you have no option other than to agree. The style is as modern as it sounds and stylish depicting royalty. The front part of the style is kept weighted with all the hair and a bit longer on the sides, whereas the back part is kept shorter.
Expert barbers can only do this style, and if you are thinking of giving it a try at home, it will turn out messy. The modern style explodes your child's inner personality adding that fascinating look to your boy's face.
Basic Spikes
Spikes was once very hyped when it was newly seen and done by men. The spikes are a trend that has been followed for generations and is still setting a fashion statement.
The head's sides are cut short, and the hair on top is styled upwards that looks like grasses giving that spikey effect; and to hold it for hours, applying a little hair gel will do the job. The style, however common, is sure to turn heads with a big smile.
Skater Haircut
The skater cut allows the hair to adjust in the front above the temple. Skater style is mainly recommended for toddlers with short hair as they tend to undo their hair quickly, and this hairstyle won't get affected even if your little champ wants to touch his hair all the time.
Allow hair specialists to turn your kid's look into a completely different one and enjoy the delight of watching your child trying to mess up with the hair.
Pompadour
Pompadour is currently the best style to discover for your child if you are looking for more than just a hairstyle. The style is quite simple to do and maintain, leaving your son to look flamboyant and stylish. All you need to be certain of is the hair type, which should be voluminous enough, and a stylist to make your job done.
The style is brushed upwards with flat tapered ends on the sides. The hairstyle goes with every outfit, and mothers need not worry about the same.
Flat Punks
Flat Punks cut are for kids who love to be mama's boy. The style can simply be done at home with a trimmer, provided you know how to use one appropriately. Keeping it bald on the sides, the center longer part of the hair is brushed on the left side and kept flat.
You can also apply oil to ensure that the hair does not pop out and holds the scalp for a long time. The style is generally for toddlers who don't mind getting their hair oiled and keeping it short and natural.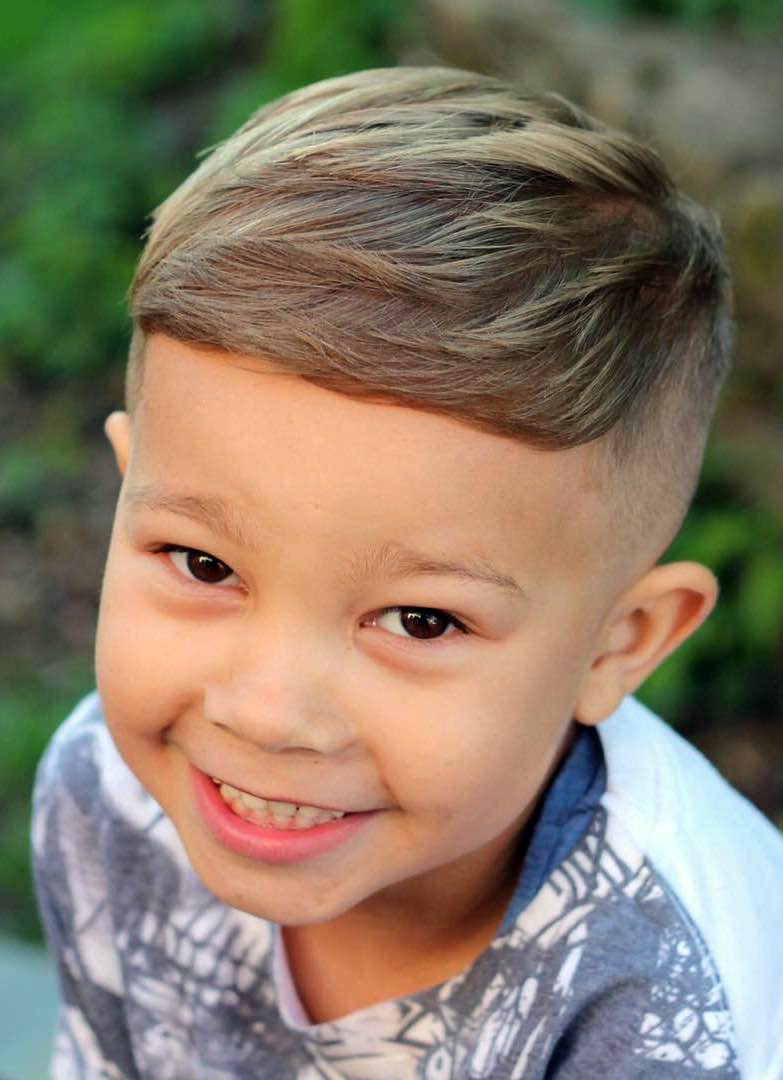 Back Brushed Haircut
To be very honest, this style is quite amazing in its own way, and the secret part about this style is it can easily be done at home. Make sure your big boy has thick hair with good volumes and is finely trimmed and shaped.
The brushed hairstyle looks attractive on big boys and men wanting to experiment with a neat, fresh look. The hair from all the sides is brushed backward towards their respective hairlines, and to rock this style, you need good straight hair and style observation if your thoughts are to do it on your own.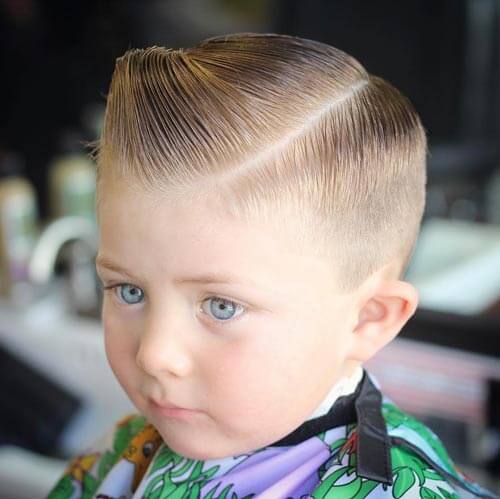 Little Faded Pattern
If you are unsure of how to really style your little sons' hair and want to try something distinctive with short, tiny curly hair, you can pick this cut and design it accordingly. This style offers flexibility as you can taper and design it using patterns or some sort of design. Both the sides of the hair are kept short and slightly faded, while the center is kept basic.
To make the haircut stand out, for example, here, the design shown in the picture is the spider's web, and you can add various other patterns too. The style is specifically for those that like to look extraordinary and love to test their hair with faded creative patterns.
Curly Faux Hawk
Nowadays, young boys with long trimmed hair wish to go for a new hairstyle trying to look cool and cheerful. So, ladies, if your grown-up boy is just as described looking for styling hair with a creative new look, this curly faux might get your job done.
The sides are kept lightly faded, and the center brings up all the curls in one place, keeping that bouncy look. You will surely need an expert stylist to ace the look. The style makes one confident and is suited for all occasions, whether it is a casual or formal event.
Undercut Bun
If you like to add the little bun to your little ones, you can easily do it in minutes. Usually, toddlers with long hair have this habit of pulling hair and ruining the hairstyle.
This hairstyle works wonders for these kinds of toddlers as you can tie them in a bun over the top easily using a hair tie and leave the sides flatly tapered. This is one of the amazing hairstyles for toddlers, and your little boy is ready for the close-up.
Side Swoop
The side swoop style is meant for kids with straight textured hair. The style looks funny and cute at the same time. The style can be done at home in a jiffy, brushing hair to one side instead of leaving it to caress and flowy.
The child will look dapper as these styles are mercilessly easy to do and will suit a round-headed face with blonde hair. Styling this hair has its own advantages as it does not gets sticky with time, and your kid can have fun and slay all day long.
Back-head Bun
As clearly visible, this style is immediately attainable in a couple of minutes and is especially for black boys fond of buns. Mothers find it easy to tie hair in a bun pulling all the hair backward and securing it with a hair tie. The sides are kept free and well tapered.
Toddlers are not a very big fan of open hair as they easily mess up their hair in seconds. To remain stress-free, just put all the hair in a bun and let your child have the time of his life.
Short Dreads
When you choose the perfect haircut for your child, the right cut will make him look imposing and beautiful. When you don't want to chop off those long hair, here is a solution to what you can do. The dreads look small when done in long hair, giving your hair that wavy-like texture.
The middle hair stands in a direction upwards while the sides remain fallen. The style looks cool on boys that have thick and medium-length hair. This short dread hairstyle is the solution when you are in the mood to style medium-length hair. Also, getting them right is important, and you will need practice to achieve this kind of perfection.
Hipster Haircut
Hipster cut is great for kids with broad foreheads. The style will no doubt look great as it is a combination of short and long hair. The hair on the side is shaved, and the center part is kept at a medium length. The hair should be medium in length for this style, and kids with round faces will look super adorable in this cut.
The style is for kids with thin blonde straight hair and can secure it with a hair gel. This hairstyle covers the entire head making your head feel light and soft.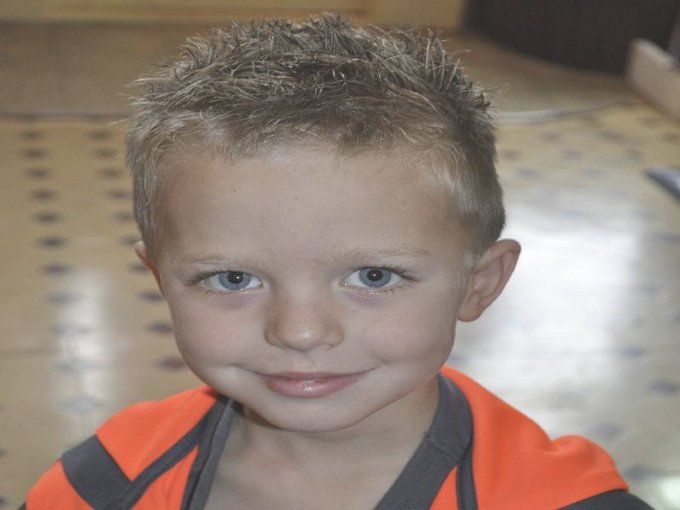 Medium style with bangs
If you are wary of the mushroom cut, then this can be a good exception for your child. The bangs with straight hair falling around the face can give a mushroom hairstyle effect but not quietly the same. It looks trendy as well as cute enough for your little brat!
Waves and bangs
Well, if you think waves and bangs don't go along or might not work out for boys, then we are here to clear your doubts. This hairstyle testifies how stylish short waves can look with slightly curled bangs falling a little above the eyebrows. It is easy to manage and does not interfere with your child's playtime.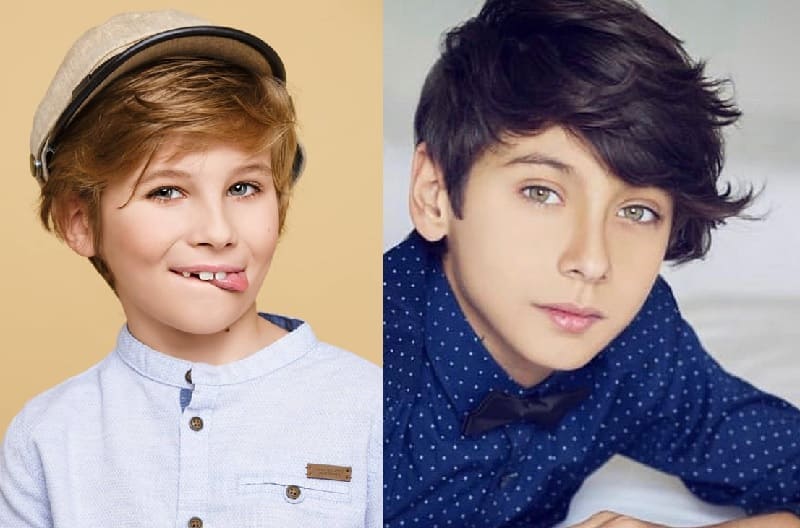 Surfer haircut
This hairstyle is one of the cutest ones that you can get for your kid. It looks cool and trendy and makes your boy look dapper. The waves give off a very easy-breezy look and are quite comfortable to carry. It also keeps the innocence alive and looks adorable.
Combed over undercut
We understand that keeping up with the trend nowadays and looking at all the child Instagram influencers has made you want to give a little makeover to your child. And what better way to make your kid stand out than this very cool hairstyle. Trust us; your boy can be the most popular among his friends with this hairdo.
Undercut with a twist
If you wish to get an edgy and dope haircut for your boy, then we cannot think of any better hairstyle than this one. The usual undercut with a textured quiff can elevate your child's fashion game to new heights and make him look like a child celebrity.
Parents nowadays are very keen to style their kids to make them look handsome and adorable from top to bottom. Whereas at times it may happen, they are misguided by people and lose their opinion or visit inexperienced barbers that turn the style upside down.
Do not let others misguide you and always visit an expert barbers salon, and another important tip will be don't do it yourself if you are unaware of the cut. You must also know what kind of texture or patterns suits your child best and prepare them according to the occasion they are walking into.
If you consider all these things, you can never pick the right cut for your child. Wishing your parents good luck and hope this will help you in some way.