The change in season is a perfect time to give a new look to your hair. And winter is a season in which you can try the best silver-blonde hair color to get full glorious new hair. We perform various experiments on our hair like different hair colors, but many of you get confused when choosing the hair color. So it's a perfect time to try this new trending silver-blonde hair color.
There are varieties of hair colors you can go for matching your skin tone. Hair colors add an extra effect on your loon and personality. So this winter season, try different hair colors on your hair.
List of Amazing Silver-blonde Winter Hairstyles
Ash-blonde Balayage
It is created by using a hand-painted highlighting technique. This ash-blonde balayage is a light hair color. This technique makes your hair natural-looking, soft, and dimension. This is perfect for women who want bright and full contrast hair, and ash-blonde gives slight silver and brown hints. Ash-blonde is a very popular and incredible hair color; it looks best on light skin tone. You can combine ash blonde hair color with peroxide and can apply it to your hair within no time. The ash colors are also used in removing the gold or red tones from your hair.
Winter white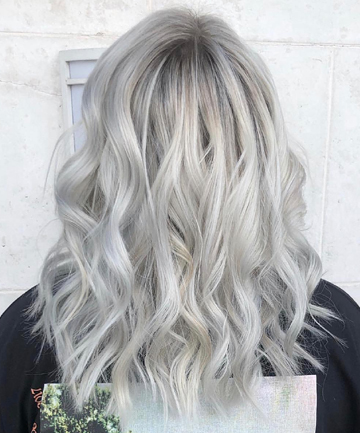 Winter white color gives an awesome and crisp look; it is a cool-toned blonde with darker roots at the top. It is 2019's first hair color, which got lots of popularity and is in trend today. Women love to carry hair with this color. In winter, you can go to your stylist to get this winter white color. For this color, you need to maintain a proper touchup with your stylist. It is a beautiful, jaw-dropping hair color and is beautifully toned. The perfectly white, bright, and bold winter white hair color is perfect for entering this winter season.
Platinum white blonde balayage
Platinum white-blond gives you an angle look. In many Hollywood movies, this hair color gives a special and bright effect to the hair. The hair color gives a full platinum white look to the hair, and in some, it is darker at the top. This hair color gives you a stunning and quirky look. It is a unique style that one can carry, so if you want to stand out of the crowd, you can go for this shade. For many years ashy hair looks are in trend, and especially platinum white blonde, it's an eye-catching hair color.
Silver-blonde ombre
This is the coolest blonde of the season. Silver-blonde hair is a trendy and cool-toned hair color. It is a combined form of silver with blonde hair. It creates different ashy and smoky shade and has a brilliant shine, making it perfect for the winter season. As in winters, it brightens your complexion and makes you glow, and gives you a stunning look. Well, here, the color ranges from platinum to ashy blondes. So if you want an amazing makeover and a bold look, you must go through this silver blonde ombre.
Dark silver-blonde
In dark silver-blonde, the hair is of gray platinum shades with dark roots on the top. The dark root provides an extra contrasting look to the hair and the future hair look. The wavy locks add a special and amazing effect to your hair. This is the stunning blonde hair color that looks cool on the one who carries it. The darker roots give a cool and stunning look to the hair. It is a unique hair color style; generally, people who carry this hair type looks very different in the crowd and are eye-popping.
Silver balayage
In this silver balayage, the roots are usually left natural or colored by dark colors. Whereas the mid-length gets lighter and brighter as you go down to the tip. It is actually a color style in which your hair color goes from darker to lighter, and slowly as it reaches the ends, it fades away. It is considered that silver color is the most tricky hair color to reach. It requires a proper balance and perfection of ashy tones. This color style gives you a cool look. The dark color is used as a base, and therefore, it needs lighting.
Pearly platinum blonde
This look carries a white blonde but not the icy white. It adds glimmer to your hair under the sun. it is recommended to use the purple shampoo once a week to keep the hair's luster and bright. Due to seasonal change, your hair becomes rough, so shampoo and deep conditioning help lock moisture in your hair and repair as you style it. With this style, you can carry a little curl if you want. It matches perfectly with fair and cooler skin tones. It doesn't suit warm and dark skin tones. So this winter season just goes for this awesome look.
Platinum highlights on brown hair
In this style, the platinum color melts near the top. The dark hair is its base, and the platinum color perfectly and smoothly blends with it. It looks hard to do, but once you do the style, it will give you a different and stunning look. The highlights look perfect and are without any harsh lines or spots. Well, with this hair color, it is quite hard to tell which skin tone suits it. But still, the olive or pink skin tones suit it better and in the best way. Well, this style doesn't require a lot of maintenance, so you can easily go with it.
Dark to light platinum ombre
For this look, you need to go to a professional. In this hairstyle, the platinum color starts to fade away as it reaches the hair tips' ends. At the root tip, the color is dark, or it can also be that of your natural hair color, then gradually, it starts to fade away as it reaches down, which means it goes from dark to light. Though it looks easy and very simple, it is not, so it requires high maintenance, and therefore you need to go to your stylist for the check-ups and maintenance. This style is very smooth and looks perfect for the person who carries it.
Platinum silvery blonde
This color style gives an icy silver lust and adds zest to your hair. The roots are left with your natural hair color, and the rest of the hair gets a shiny fairy-like effect. It is in trend for the past few years, and it seems like, in upcoming years, it will top the charts. It is recommended that for its long-lasting maintenance, one must you purple shampoo and conditioner. It looks perfect on any kind of hair. It is a warm white look that matches all kinds of skin tones, giving cool and shiny effects on the personality.
Silver-blonde with grown out darker roots
In this hair color style, the hair is turned in silvery-white color, leaving the root tips. It gives an angle like look to your hair. It looks like a shimmering white paint which seems to be spilled on to black hair. It creates a fusion of colors. The roots of the hair can be your natural hair. It gives a different unique look to your hair. The process of doing this color is very convenient; you do not have to do lots of maintenance. But before trying this, first get to know whether it will suit your skin color or not.
California blonde with dark roots
This dimensional icy blonde with dark roots is very popular and is in trend now. This is perfect for the women who want a platinum look with low maintenance and do not wants to go to salons every 4 to 5 weeks. For this hair color, fair skin, cook skin, neutral skin, and beige skin tones work perfectly. This is in the latest trend and is loved by young girls; it flatters their personality. Well, the hair coloring process is lengthy and takes time. So you have to be patient. After the coloring process is done, you have to take proper care of your hair.
Golden platinum
In this hair color, the shade of platinum is very gentle and compliments the light skin tone. The look carries soft platinum blonde with smudgy roots and creates a smooth appearance. It creates such a texture that it seems like the color is moving. Yes, you can see the movement and beautiful waves. This hair color makes you look pop. This look is best with platinum as its base. It is of low maintenance, so you don't have to go to salons frequently. You can go for hair check-up within ever 3 to 4 months. So this winter, try this beautiful smudgy look.
Bright platinum blonde highlights
It is a modern icy blonde that looks bold on your hair. It is of very low maintenance because of its shadowed roots. It is a full blended style and perfectly goes with bold personalities. You must go for these bright platinum blonde highlights as it will give you a simple, edgy, and confident look. I am sure that you will fall in love with this hairstyle. You can carry it with curls or without curls. This hair color matches up with light skin tones and can go with any face shapes. So try this bold blended hair color for getting a bold and confident look.
Metallic silver-blonde
It is a modern new trendy to look which is carried by most of the women it is the best multidimensional color platinum blonde lowlights. It gives even color to the hair with your natural hair as a base. The hair color is best for cool skin tones and works with light skin tones. If you have long hair it will look perfect on you, and it shows variations on long waves. It is a good style for winter seasons to carry. It is one of the most popular and best haircolor style. It requires low maintenance, but you must go through salons.
Smoky platinum with dark roots
This hairstyle is also known as smokey ash. At the roots of the hair, the platinum color perfectly blends with the depths. The hair strands were light, and the root sections were shadowed and gives a smoky metallic look. It gives you high-end look with low maintenance. You need not have to go salon for its ups check. I am sure with this hairstyle you will be going to receive many compliments. This hair color looks great on all hair types and round shape faces. The length and color will suit you and will give you a warm bright look in this winter season.
Silvery frosty blonde
If you want to be a blonde babe and this winter wants to carry a different look, you must go for this silvery frosty blonde which will be worth your money, time and effort. At first, it looks very difficult and seems like it requires a very high maintenance charge, but once you get the result, the maintenance will become very low. For removing the brassy tone, many stylists recommend purple shampoo and deep conditioning as it helps in long-lasting look. It looks very beautiful and flawless. It looks better with light tone skin. So once you are done with this style, you will love it.
Silvery smoke blonde
This is also known as light ash blonde and keeps the natural hair color as a base that is paired up with the roots. This needs a high maintenance. Therefore only home care won't work out; you need to go to a salon for proper care and maintenance. There are many recommended shampoo and conditioners you can go for. These shampoos and conditioners are very helpful for your hair, it keeps them healthy and hydrated and can easily use them at home. It gives you eye-popping look and makes you stand out of the crowd. So if this winter you want to look different you can go for this style.
Silver-blonde highlights on dark brown base
This look is generally known as the baby light technique. They grow out in this hairstyle looks amazing. You won't find harsh lines, and it adds dimensions in the hair. The hair in the ends is thick to give your hair a healthy look. It goes better with straight hair and gives a sexy look. After doing this hair color, you must go for touch-ups for every 6-12 weeks. Well, there are plenty of variations and styles which you can carry, but it looks perfect with straight hair. It gives you a customized look. Purple shampoo is best for blondes to keep them in their tone.
Dark roots white blonde hair
In this hairstyle, the hair at the top are dark, and as it slides down, it turns to silvery-white. The style is very trending and gives a very unique and different look. This is easy to maintain and requires less time. So if you don't want running for salons, you can carry this style and go for this as it doesn't requires frequent up checks. This gives a perfect look and is loved by many young people. It looks beautiful and flawless. The hair suits cool and light skin tones. So this winter season, give your hair the best look.
Dark roots to light blonde ombre
Dark roots to light blonde ombre is a look of blending. The roots at the top are of dark color; it can be of black or brown or the natural color of your hair, and as it goes down the light color starts to blend with the dark hair color of the top. This ombre look is very trending and matches with all type of skin tone. So if you want to try something which gives you a stunning and gorgeous look, you can definitely go for this hair color.
Honey blonde hair with dark brown roots
In this hairstyle, go for the darker brown shade as a base, and then it starts to fade as it reaches the ends of the, i.e., from dark to light. It is one of the bright and bold styles and gives a perfect look to your hair. To maintain it for a long time and for locking up the moisture in your hair you can go for purple shampoo and conditioner. You can carry this style in winter as it will warm-up your personality and gives you the best-desired look.
An iconic silver pony
this silver hair done up looks perfect on one who carries this hairdo. The hair looks perfectly silver-white but in the ends, it starts fading away. The violet color is added in this style because it helps to give a special extra effect to the hair and there are various shampoo and conditioners which control the amount of violet. This helps to tones hair and makes your new icy hair color to last longer. It is easy to maintain and carry. It gives you a cool and funky look. Generally, youngsters go with this hair color to give their hair an amazing look.
Paging Daenerys Targaryen
In this coloring style, the hair fully turns to the white silver. It looks very different, but the person carrying this style feels so relaxed and cool. Generally, this style has become popular in the Games Of Thrones. The hair looks a different look and is really eye-catching. This look is also called the Mother Of Dragons hair goals. Before going through this style, make sure it matches your skin tone, and for that, you can consult your hairstylist. The people who love to do experiments on their hair can go with this rocking, sober, and fantastic look.
Stormy gray
Stormy hair color is an effectively hard hair color for your hair. It is said that Some of the gray is resistant to hair color therefore, it is important to add something darker to your hair roots to deliver more coverage. Because of its texture, the gray hair is more resistant to color than younger hair. This style looks very professional and gives a work look. Gray hair has its own mind, and it tends not to cooperate with us therefore, as time passes, it becomes harder and harder and dye your hair properly. It is one of the most popular hair colors which one can try.
Peekaboo color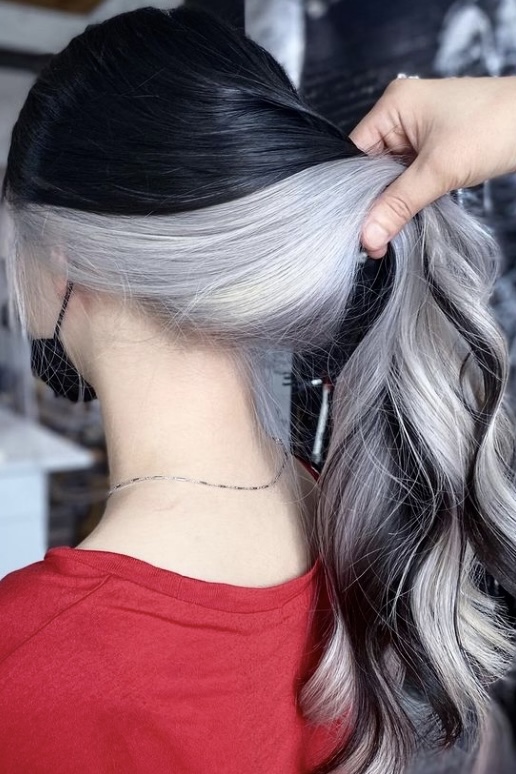 If you are looking for any spicy hair color and want to add a quirk and unique color to your hair you must go through this hair color. This peekaboo highlight is done by adding some color without the need of past over bleach. It is a fun style which one can carry. It can be applied at the sides, ends of the hair, back sections, or to the bangs. The color is not specified you can choose any hair color you desire for. Generally, people go for purple peek a boo highlights and complement it with platinum blonde hair color.
Bright and blonde
This is best for those who have darker hair but want to ease it out into a blonde; it gives your hair a bright look which you can carry during winters. The hair color reaches close to your hairline and roots, then it is mixed with your natural hair color. It gives a bright warm look with almost white highlights. This hair color is trendy and is loved by the people who carry it. For any hair color, first go through your skin tone and then to a salon for your hair treatments. But when it comes to bright blonde, it is warm and cool and works well with all skin tones.
Beachy blonde
Beachy blonde is a sun-kissed and healthy hair holy grail. Basically, this color will make you fall in love with your hair. It will give you a natural self with flattering and amazing highlights. Before going for any hair color, you must go through your stylist and consult about your color and skin tone. As the hair color you want to carry must match your skin tone. This winter warms up your hair by adding golden shine gloss to it. Your hair becomes parched in summer therefore, it becomes necessary to rehydrates your hair. So this golden shine gloss is the best treatment for your hair.
The middle ground
This hair color is for those who are not a true color blonde. In this hair color, the light ash brown hair color fading gradually to blonde. This ombre style starts fading once it reaches the end tips. It gives a very smooth look to your hair and is considered to be too light. Light brown, dark blonde. Blonde, hot-toffee, ash-blonde, etc. are the infinite names of low maintenance and give the flexibility to go lighter or darker without showing any big change. There are many different shades that come under them. One can try different and unique styles to carry in this winter season.
Shadowed roots
The shadowed root is basically named so because when your hair roots are contrasted with the rest of your hair, it creates a shadow. Shadowed roots are the biggest trend of the winter season. So in this winter season, you can rock with this shadowed root style. It is legit and looks pretty on the one who carries it. One cannot stop them from looking at your hair. Your hair's ends look smooth and very beautiful via the roots give an elegant look to your personality. This winter season, you must go through this trending shadowed root hair color.
These are some of the most interesting hair colors one can try during the winters. Let's just say, "Winter is Coming, and we should be prepared for it."